Summary: Deer, Hog, Horses, Humans, I can hunt it all.
Rhujax
Owned by: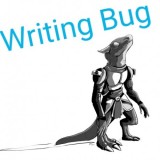 Writing Bug
Gender: Male
Age: Young Adult
Group: Lizardfolk
Game: The Scale
Race/ Species
Lizardfolk
Job/ Trade, and Rank in Employment
Hunter, hunts on his own.
Physical Appearance
He has bluish green scales, a strong, but lanky build and reaches a height of six feet tall. He is missing two of his toes and has a scar that runs from his ankle to his waist. Got it from an bear attack.
Personality, Skills and Interests
He is a very talented hunter, and spends most of his time doing that. He also spends the morning at the worship stones during the Shamans morning prayer. He can make traps and is shy, especially around female Lizardfolk.
Strengths
Hunting, trap-making. Stealthy, swift, smart, and very religious.
Weaknesses
Missing toes, bad lungs, tempermental, awkward, and very religious.
History
He was raised in the town of Kruz, where his family ran a weapons store. He decided that he should move somewhere more open to the wilds. He decided to live in Drex, and lives there to this day.
Itemès always carried
His spear, trap-making kit, a
Facts/ Other Notes (GM can add notes here)
-Single, and lives in hut 3
---
This character is owned by: Writing Bug
Character questions
Recent Activity