Summary: Let us fight our enemies, as friends.
Sir Leaptoe
Owned by: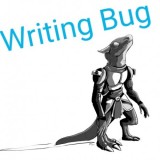 Writing Bug
Gender: Male
Age: Adult
Group: Mogogol
Game: The Scale
Race/ Species
Mogogol
Job/ Trade, and Rank in Employment
Leader of the Scaleguard, tactical planner, and first one to battle.
Physical Appearance
He has green, slimy skin and is heavy set. He has scars across his body and a wide face.
Personality, Skills and Interests
He loves to fight, and can sometimes be reckless. He is a good leader, and a simple minded thinker.
Strengths
Fighting, using his brute strength and weight to his advantage. He is quick thinking, and admires the companionship of others.
Weaknesses
He may seem dim witted, and he rarely plans ahead. He is bad at staying hidden, and attacks at the wrong time.
History
He was born and raised in the town of Hopper, where he fought elves that invaded the area. Many years later he met Irx and was trained by him in fighting. Afterwards he found himself as a member of the Scaleguard, and quickly climbed the ranks to leader.
Itemès always carried
Hand axes, coins, and a snack of roasted spiders.
Facts/ Other Notes (GM can add notes here)
- Leader of the Scaleguard.
---
This character is owned by: Writing Bug
Character questions
Recent Activity