Summary: Magic...
Jasmin Blackfur Borufilius
Owned by: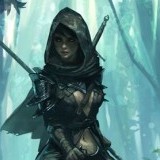 Niki Haruno
Gender: Female
Age: 19
Group: Descendants
Game: When Darkness Dawns
Lineage
One of the last known descendants of the Borufilius line as well as the Blackfur line.
Job/Skill
Barista in a coffee shop.
Rank/Title
Team Member
Physical Appearance
Long curling black hair, violently violet eyes, very pale skin.
Personality and interests
Quiet, emotionally fragile, wants mostly just to be normal.
History
Has had a continuous issue with teleportation.
Magic [if any]
Teleportation.
Weapons/Artifacts/Items
None ('cept a silver scarf)
[Oh, and that glass-and-silver locket passed down to her from mother to daughter through generations, the one that sorta glows bluish sometimes. I'm sure it's nothing important.]
Allegiance
Remnants.
---
This character is owned by: Niki Haruno
Character questions