Summary: Servant of the Dawning Darkness
Cwen Mavrila Amavrono
Owned by: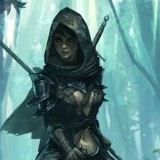 Niki Haruno
Gender: Female
Age: 23
Group: Darkening
Game: When Darkness Dawns
Lineage
Daughter of the previous President before Autem Infirma's election.
[though secretly the daughter of It]
Job/Skill
Not much is known about her publicly.
[employed somewhat as an assassin by It]
Rank/Title
None.
[The Hand of It]
Physical Appearance
Cwen has dark hair and pale skin, and very cold, almost dead eyes.
Personality and interests
Cwen wants nothing more than to accomplish the goal of It.
History
Cwen Amavrono was born to the penultimate president of Zenthium.
[But more importantly... ...she was born to IT]
Magic [if any]
None to common knowledge
[Umbrakinesis, as per It]
Weapons/Artifacts/Items
Unknown.
Allegiance
Publicly, the government.
[Behind the scenes - her loyalty is only to It]
---
This character is owned by: Niki Haruno
Character questions