Summary: Eliss Lisar
Sariss
Owned by: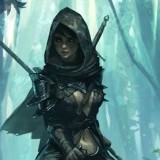 Niki Haruno
Gender: Eh...
Age: 22
Group: Descendants
Game: When Darkness Dawns
Lineage
Descendant of Kirs and Sargon Rihat, though it appears no magic was inherited.
[But it was. Oh boy, it was.]
Job/Skill
Intern at Cyborn Inc.
Rank/Title
Intern
Physical Appearance
Black hair long enough to hold in a ponytail, grey eyes, pale skin.
Personality and interests
Quiet and contented but mostly quiet.
History
Not much of one. Graduated from the Academy and got an internship at Cyborn.
Magic [if any]
Publicly, none.
[Secretly, Black/White Magi]
Weapons/Artifacts/Items
none.
Allegiance
Team Rem
---
This character is owned by: Niki Haruno
Character questions