Summary: A war-torn seeker from The Steel Expanse
Marcus
Owned by: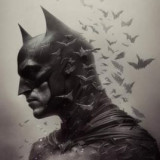 Avenuewriter
Gender: Male
Age: 157 years
Group: Simulacra
Game: Edge of Oblivion
Physical Appearance
A basic humanoid sim of average height and appearance. Has bright blue eyes and dark brown hair that's graying slightly.
Personality And Interests
Marcus is serious and no-nonsense. His years as a member of The Expanse's Crucible facing constant attempts by the shadowkin to invade have shaped him into a cunning and fierce warrior. While he values his fellow seekers, he refuses to get close to any of them due to suffering many losses.
He harbors a deep resentment towards most shadowkin. A prejudice many in The Expanse share, much to the ire of any allied shadowkin seekers who visit the Crucible. However, he prefers to focus his hatred on killing any enemy shadowkin he can get his hands on.
When not conducting operations within The Expanse, he's hopping from one Crucible to the next, looking to recruit new seekers to aid in defense of his home.
History
Born on a backwater asteroid, Marcus spent most of his childhood surviving in the Big Black with his family. Foraging for food and scavenging what he could find to sell when trading vessels passed through. His tenacity and drive to survive attracted the attention of a Seeker from The Steel Expanse who offered him the chance to join The Crucible.
Marcus proved to be a very skilled soldier and despite not exhibiting any psionic abilities was quickly considered a valued member of every unit he served with thanks to his sense of leadership and dogged determination to see his goals through to the bitter end. As a seeker he has spent most of his time exploring The Steel Expanse and fighting the infestation of shadowkin which inhabit the ancient city.
Skills And Special Traits
Skilled military combatant and mechanic.
Natural leader.
---
This character is owned by: Avenuewriter
Character questions
Recent Activity
Mentioned in the post
Meet Up
Oct 21, 2018, 11:24pm
Mentioned in the post
Savagery
Oct 5, 2018, 10:16pm