Summary: Leader of Destiny Recon 1
Joseph Cooper
Owned by: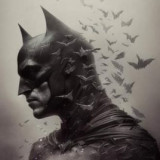 Avenuewriter
Gender: Male
Age: 28
Group: Tau'ri
Game: Stargate Destiny
Nationality/Home World
American
Rank/Title
Lieutenant
Skills/Equipment
Piloting
Armed Combat
Equipment:
FN-P90
Truvian Blaster
Zat Gun
Physical Appearance
Tall African American male with short hair. Often wearing military fatigues.
Personality and interests
Cooper is friendly to most and has a sharp wit about him. His time on Destiny, however, has tempered his carefree attitude and he's grown to have a sense of duty for the crew he's sworn to protect.
He's a big sci-fi and anime nerd, and will often make pop culture references. He's also been trying to get a ship basketball team together.
History
Cooper grew up in a small town in Washington and spent his youth playing sports and Dungeons and Dragons with his friends. Originally he wanted to be a cop but the Air Force would pay for college so he joined up. He impressed a number of officers over his career to the point he was transferred to the SGC as a member of SG-6. Then he eventually took a position on Icarus base.
Favourite Sayings
"This reminds me of a movie I once saw..."
Player Notes
Cooper carries twelve-sided dice with him as a memento of his DnD days.
---
This character is owned by: Avenuewriter
Character questions
Recent Activity
Mentioned in the post
Plan B?
Oct 31, 2018, 4:15pm
Mentioned in the post
Control
Oct 30, 2018, 5:45am
Mentioned in the post
Confused
Sep 28, 2018, 2:17am
Mentioned in the post
Stowaway
Sep 27, 2018, 8:21pm
Mentioned in the post
Questions
Sep 16, 2018, 12:48am
Mentioned in the post
Not Good?
Sep 14, 2018, 4:56pm