Summary: Guards the sixth floor of the guild seeker of truth. A loyal friend and feared opponent.
Theseus Colloseum Champion
Owned by: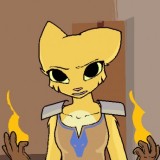 wisdom
Gender: Male
Age: 7
Group: NPC from Yggdrasil
Game: Overlord Origins
Race
Minatour
Level
100
Jobs/Skills
Warrior level 10
Barbarian level 10
Gladiator level 10
Beast tamer level 10
Beast summoner level 10
Hunter level 10
Scout level 10
Mage level 10
Teramancer level 10
Floramancer level 10
Physical Appearance
He is a brown muscular man with a black bull head and sharp lion teeth. His horns are polished white.
He wears light gladiator armor.
Personality and interests
He has a love for nature and is a loyal friend. He treats animals as pets that he loves and cares for if anyone hurts an animal and does not use it for food or other useful reasons it upsets him greatly.
Anyone who he considers an enemy will be hunted down and and killed without mercy unless ordered otherwise.
He loves a good hunt and especially loves traps and puzzles.
He considers Druids to be wonderful because of their care for nature and because he was created by Wayofpine who was a druid.
Backstory
Created by Wayofpine and named after the hero who killed the minotaur in Greek mythology for the sake of irony. Viewed as the last line of defence for the guild the players made the pine forest that he guards the most deadly thing imaginable and for outsiders Theseus is the only person who could lead them through safely.
Relationships
Guild: Seekers of truth
Items/Equipment
Champion's armor
Boots of immobility (prevents skulls and magic from moving him unwillingly)
Gauntlets of bleeding
Amulet of animal lovers (boosts his stats for each beast ally or summon)
Ring of teramancy
Ring of floramancy
Net of stunning
Bag of traps
Spiked dragon bone Shield
Godslayer Halberd
Experience gained
75/100000
---
This character is owned by: wisdom
Character questions
Recent Activity
Mentioned in the post
Angel hunt
Oct 8, 2018, 9:04pm
Updated character profile
Oct 4, 2018, 9:34pm
Updated character profile
Oct 4, 2018, 9:34pm
Updated character profile
Oct 4, 2018, 9:34pm
Mentioned in the post
Delivery
Sep 30, 2018, 10:23pm
Updated character profile
Sep 27, 2018, 6:27pm
Updated character profile
Sep 27, 2018, 6:27pm
Updated character profile
Sep 27, 2018, 6:26pm
Updated character profile
Sep 27, 2018, 6:24pm
Updated character profile
Sep 27, 2018, 6:24pm
Updated character profile
Sep 27, 2018, 4:08pm