Summary: The one who created the world in it's most basic form and maker of it's first peoples.
Vanta
Owned by: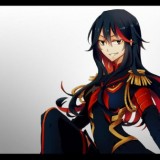 EdgeLord564
Gender: Male
Age: Old as time
Group: Outer Deities
Game: Pantheon
Followers
All the world's peoples acknowledge his existence but only his favored creations the Tenebrans erect idols or pray to him.
Domain
Acts of creation, survival, freedom and art.
Rank
Overdeity.
Physical Appearance
While on the physical plane he takes the form of a black haired young man in a hooded ebony robe. When among other gods or he wants to remind mortals of his presence he simply appears as an undetailed black silhouette.
Personality and interests
Vanta is a whimsical and affable god known for walking among gods or mortals as he pleases and becoming involved in their affairs.
Dogma
Freedom is what he holds most sacred. He does not object to authority but forcibly enforcing control over his followers is one of the few ways to anger him. His punishments are severe enough that this rarely occurs.
How are they worshipped?
His followers break bread before minimalist statues of a man as a funeral right and he is asked to bless weddings. A common symbol used to represent him is that of a red ringed black disk with white rays shooting outward.
Likes
Acts of freewill, perseverance and art.
Dislikes
Control, arrogance and boredom.
---
This character is owned by: EdgeLord564
Character questions
Recent Activity
Mentioned in the post
Beasts
Nov 13, 2018, 7:13pm
Mentioned in the post
Blessing
Nov 13, 2018, 7:03am
Mentioned in the post
Initiate
Nov 10, 2018, 4:17am
Mentioned in the post
Mold
Nov 9, 2018, 10:48am
Mentioned in the post
Agency
Nov 9, 2018, 2:44am
Mentioned in the post
Selection
Nov 8, 2018, 5:43pm
Mentioned in the post
Genesis
Nov 7, 2018, 9:28pm
Updated character profile
Oct 24, 2018, 3:02pm
Updated character profile
Oct 24, 2018, 3:02pm
Updated character profile
Oct 23, 2018, 7:16pm
Updated character profile
Oct 23, 2018, 7:16pm
Updated character profile
Oct 20, 2018, 6:00pm
Updated character profile
Oct 20, 2018, 6:00pm
Updated character profile
Oct 17, 2018, 9:48pm