Summary: Lord of darkness
Tiekious
Owned by: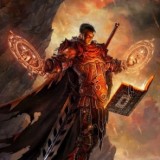 LucianNepreen
Gender: Male
Age: ( third oldest god)
Group: Outer Deities
Game: Pantheon
Followers
Beings of darkness, magic, evil, war, and undead.
Domain
The dark dimension and hell
Rank
God of darkness, war, black magic, war, evil, undead,beings of darkness and undead.
Ruler of dark gods
Physical Appearance
The pic, 18'6 ft tall
Personality and interests
Evil, wants the world to surrounded by darkness, cold hearted, merciless, deceiver, and wants to destroy the heavens and rule the other gods.
Dogma
The strong live, the weak die. Love is a lie, sin is graceful in his eyes.
How are they worshipped?
Worshipped by sacrifices, offerings, and sin or war
Likes
The darkness, playing with mortals, powerful worshippers, beings of darkness and sin
Dislikes
The light, beings of good, the heaven, and pure hearted beings
---
This character is owned by: LucianNepreen
Character questions
Recent Activity
Mentioned in the post
Attack
Dec 5, 2018, 6:05pm
Mentioned in the post
Fruition
Dec 1, 2018, 4:07am
Mentioned in the post
Shadows
Nov 30, 2018, 10:11pm
Mentioned in the post
Juvenile
Nov 14, 2018, 3:11am
Updated character profile
Oct 21, 2018, 2:25pm
Updated character profile
Oct 21, 2018, 2:25pm
Updated character profile
Oct 20, 2018, 8:42pm