Summary: Sheriff of Silverado
Alvin O'Connor
Owned by: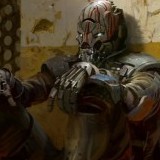 Dj_Panda
Gender: Male
Age: 37
Group: Federal Agents/Local Police
Game: Bare Blood
Nationality
Son of British immigrants
Place of Residence
Sheriff of Silverado
Physical Appearance
A younger man, cleanly shaven, wears police uniform. Rides on a white horse, therefore he's sometimes referred to as the "White Stallion." He's a nice looking person.
Weapons/Belongings
Colt .45
Picture of his wife, son
Rank/Title/Job
Sheriff of Silverado, Nevada
History
Was born in New York City, New York. His father hoped for something more exciting in America and decided to head west, praying for a break. They only managed to make it to Fort Caspar, where his father found work on a local ranch. They lived there until his father was robbed by outlaws.
Alvin, fueled by revenge, set out to find the criminals and move away from his parents, where he found them in the Silverado saloon. He brought justice upon them, and got the liking of the then-sheriff James Heath. He became an officer soon after.
Ten years later he's the sheriff, trying to bring justice to the wild and untamed west.
Nickname
The White Stallion
---
This character is owned by: Dj_Panda
Character questions
Recent Activity
Updated character profile
Nov 25, 2018, 10:54pm
Updated character profile
Nov 25, 2018, 9:13pm