Summary: Hardworking, outdoorsy civilian
Joanna Murphy
Owned by: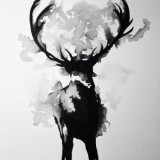 White_Caribou
Gender: Female
Age: 13
Group: Citizens/NPC's
Game: Bare Blood
Nationality
Irish
Place of Residence
Silverado
Physical Appearance
Short and scrawny with big ears poking out of her brown pigtails. Freckles dot her rosy cheeks and she has chocolatey brown eyes. She is very rarely seen without her wide-brimmed hat and a scarf. Her hands are pretty callused from all the labor and activities she does.
Weapons/Belongings
Hat
Hunting Rifle
Small Knife
Rank/Title/Job
Delivers mail/newspapers from Post Office and Printing Shop (low pay)
Takes produce, milk, and boiled water into town to sell (profit depends)
A Silverado grave digger (low pay)
Long story short, she'll take any job as long as she gets paid.
History
Joanna and her mother, Sarah Murphy, immigrated from their potato farming home in Ireland two years ago to get away from English control as well as the death of her father. They live in a fairly rural area of Sundance and have a small, disheveled house by a pond where they grow potatoes, oats, and onions. Because their crops sometimes don't meet standards, Jo takes whatever jobs she can find. They have a brown pony and one dairy cow. Jo spends most of her time outside gathering all sorts of stuff and playing around at the rare little pond with two odd friends Onida and Sophie, as well as her dog Benny (Irish Water Spaniel) who she's had for four years. They occasionally go hunting together and he follows her into town.
She dresses like a boy and when she's working tucks her hair up into her hat to keep a lower profile and it usually works. Sarah basically raised her as if she were a boy because she knew it would be easier if she were, but also because she wanted a son in general. Having said that, she was taught to track, carve, shoot a rifle, and live off of the land very young by her late father. In general, she prefers more hardworking, hands-on tasks like building. Even as she seems hardened and serious, there's a childlike wonder to her and everything she does. She doesn't want to grow up but she knows she must; she has the heart of a child and just wants to do some good.
Joanna is quiet and stubborn, but knows her manners and when enough is enough. Like her dog, she is loyal and will have your back. Uneducated in school topics but is very slowly learning the basics from her mom's lover who is the mayor of a town far east of Silverado, well known for its mines. One day she hopes to explore more territories and possibly hunt game as a job, or work in his mines due to her fascination of rocks and minerals. Her accent has stuck pretty well since she's been here but the west is creepin' in.
Sarah recently got into a bit of trouble with a gang, but always tells Jo it'll be "handled soon", never explaining what really happened. Ever since she hasn't been very talkative or expressive toward her daughter, so Jo spends most of the time out. It's taking a toll on them both, but Sarah knows the inevitable truth she's been hiding will need to resurface soon. And she needs the right person to do what needs to be done.
Nickname
Jo
Kiddo
(I can edit any of this as needed)
---
This character is owned by: White_Caribou
Character questions
Recent Activity
Mentioned in the post
The Trade
Dec 26, 2018, 4:19pm
Updated character profile
Nov 27, 2018, 11:59am
Updated character profile
Nov 26, 2018, 11:38pm
Updated character profile
Nov 26, 2018, 11:37pm