Summary: Sheriff of Pine
Daren Callahan
Owned by: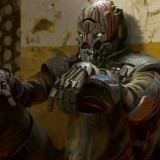 Dj_Panda
Gender: Male
Age: 45
Group: Federal Agents/Local Police
Game: Bare Blood
Nationality
American, born in Louisiana
Place of Residence
Pine
Physical Appearance
Older gentleman, typically wears the sheriff's outfit. He adorns a mustache and sometimes a beard. He looks stern and intimidating.
Weapons/Belongings
Revolver
Bolt action rifle
Knife
Compass
Binoculars
Rank/Title/Job
Sheriff of Pine, a small town
History
Was born in Louisiana, and as a child he moved with his mother to be a maid to a rich woman moving out west in hopes of starting a plantation of some kind. While on the way his mother was killed in a bloody skirmish with native Americans.
Daren was taken in by the rich family begrudgingly. They delegated the worst tasks to him, and as a teenager he escaped their house and became a roaming boy. He was saved from death by a lone ranger who took him to the nearby town of Pine, in which he became an apprentice to the sheriff.
Being a dedicated lawman, he's dealt with the Starr Gang for years, being there for the great bloodshed that they've caused. He was also there when another gang, known as The Western Brotherhood came into Pine and killed dozens.
Following that fateful day the sheriffs of the whole region worked harder and smarter, eventually running out the Brotherhood and withering down the Starr gang. He became sheriff when he was 38, and ever since he's vowed to take down every last gang, even if it turns into a war.
Nickname
The Eagle
---
This character is owned by: Dj_Panda
Character questions
Recent Activity
Updated character profile
Dec 9, 2018, 6:38pm
Updated character profile
Dec 9, 2018, 6:10pm