Summary: Wants to bring her husband's killers to justice.
Claire Parker
Owned by: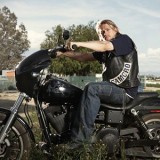 LadyPyra
Gender: female
Age: 18
Group: Bounty Hunters
Game: Bare Blood
Nationality
She only knows of being raised in US
Place of Residence
No one place long(see history)
Physical Appearance
Claire is a five foot six brunette who shows signs of a rough life. She has two scars on the backs of her legs, one a T the other a L. She dresses in men's attire usually unless trying to get info. Always around her neck sh wears a wedding band.
Weapons/Belongings
Weapons:Two Colt Peacemakers, a Winchester, Double barrelled shotgun, knife and lasso.
She doesn't own much, but trail supplies, her clothes, a horse and her wedding band.
Also she carries the posters of the Laredo gang at all times.
Rank/Title/Job
She's a bounty hunter. Has been known to work as a prostitute to gain info or cash when needed
History
Claire was raised as a proper Christian in the Kansas Territory. She met the love of her life in school and was ready to spend her life as Mrs. Josh Parker. When the couple returned to their farm after the wedding they were surprised by the Laredo gang. The group tortured then killed Josh while Claire watched helplessly. Then they turned on her. Once done the Leader carved a T on the back of her leg, then they left her ror dead.
When she came to it was in the home of a mountain man who found her. He cared for her teaching her how to track and hunt.Once sh was fit she returned to the farm. She found a grave on a hill which she wept over. After she gathered the horse and took off.
Ever since she's been on the hunt of the Laredo gang and has caught a few. The one time she found the leaders though, it happened again, this time she had a L scar. She keeps pursuing them, swearing vengeance. Each time she captures one she grasps the band saying one more. She won't rest though till she gets the two in charge. Buckshot Tom Laredo and the one they call Johnny No Name. Only then will she settle down.
Nickname
Hellcat
---
This character is owned by: LadyPyra
Character questions
Recent Activity
Updated character profile
Apr 18, 2019, 9:03am