Summary: An American decker from a young age seeking to better himself through theft of funds and data.
William
Owned by: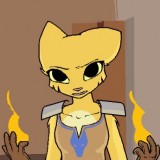 wisdom
Gender: Male
Age: 126
Group: Players
Game: Shadowrun - At What Price?
Race
Elf/cyborg
Skills
Stealth.
Disarming explosives.
Hacking financial accounts.
Rank/Title
Unknown
Physical Appearance
The upper left side of his body is cybernetic and he has a skin tone that looks like a cup of coffee that is half milk. He has short red hair with white streaks in it.
Personality and interests
He is passionate about bettering himself, helping the poor that remind him of his deceased family, and being the best decker he can.
Ever since he was injured in an explosion he has become paranoid about bombs and booby traps. He spent a lot of his recovery time going over the data on every type of bomb and how to diffuse it. He stores the information in the cybernetic part of his brain for easy access.
His sisters death has caused him to start seeing traits of his sister in other female elves and he treats them like he would his sister if his sister was in their position.
He used to have a deep desire to mary and have kids, but his economic position and struggles that he faced with his sister caused him to focus on acquiring as much wealth as possible before looking to start a family.
History
Born in Seattle to a Native American mother he grew up with very little because his family was very poor. He learned how to hack at the age of 7 and became a notorious decker in Seattle and had to leave to avoid the authorities.
His parents died when he was 50 and he and his sister stayed very close after that. He made sure his sister could always have an honorable and legal job in whatever city they moved to and he would hack and steel to ensure they always had enough money for 3 meals a day and rent in the middle class areas of the city.
He took a job as a shadow runner when his sister fell ill with a terminal disease with a cure only the extremely wealthy could afford.
Injured by an exploding terminal while trying to hack funds to pay for his sisters expensive life saving surgery. He recived cybernetic implants to save his life.
He worked alone on every job he ever did since he was 10 until his third job as a shadowruner when he was 126.
---
This character is owned by: wisdom
Character questions
Recent Activity
Mentioned in the post
Survalence
Jan 6, 2019, 3:25pm
Mentioned in the post
Oh boy...
Jan 5, 2019, 11:20pm
Updated character profile
Dec 30, 2018, 1:44pm
Updated character profile
Dec 30, 2018, 1:34pm
Updated character profile
Dec 30, 2018, 1:34pm
Updated character profile
Dec 30, 2018, 12:46pm
Updated character profile
Dec 30, 2018, 12:46pm
Updated character profile
Dec 30, 2018, 12:45pm
Updated character profile
Dec 30, 2018, 12:45pm
Updated character profile
Dec 30, 2018, 12:45pm
Updated character profile
Dec 22, 2018, 7:41pm
Updated character profile
Dec 17, 2018, 5:19pm
Updated character profile
Dec 17, 2018, 5:19pm
Updated character profile
Dec 17, 2018, 1:11pm