Characters in this post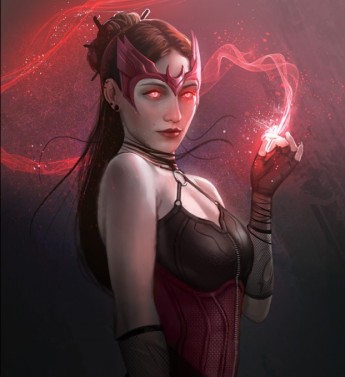 View character profile for: Theodosia Maximoff
Have you lost the same things I have lost?
Theo was a wreck. She'd stripped off the white leather uniform of which she'd been so proud and thrown it into the trash. With none of her own clothes to put on afterwards, she could not think what else to do so spent the latter half of their first day sitting naked in the shower without the water running. At some point a pair of shorts and generic tshirt were draped over the shower door so she wiped her eyes and dutifully dressed and took hold of the broom when it was placed in her hands. She followed someone, not even sure who it was, and dragged the broom through the dust, completely ineffectual, but at least it was something. Niko's comings and goings were never seen, but the speedster could always be felt as he breezed past. For that reason he was not assigned to the mop and broom, having stirred up more dust and sloshed more water than he cleaned. He may have done it intentionally to get a more favorable chore.
From time to time someone would guide Theo to another room where she'd drag the broom along with the same lack of emotion and the same lack of interest. There had been some serious cleaning going on at the Compound, but very little of it was done by Theo. She'd been in a dull stupor since the events in the war room and after a few attempts to bring her round, the others had felt it best to leave her be, with instructions for HELEN to discreetly monitor her whereabouts.
She slept at times because she woke up in different rooms. They all must have slept, but the Compound was never fully dark or still while they took turns carrying out their duties. Theo's stomach never rumbled, so she must have eaten, but she couldn't say she remembered any of it. At some point the filthy broom had been gently removed from her hands and since nothing was put in its place she stood in corners out of the way or stopped and stared randomly at lengths of one wall or another. So Theo was useless in the entire endeavor to bring the compound back to good, but she had not shown any inclination to self harm so was left unattended to move through the halls like a traveling gloom. Her passage was marked by localized disturbances; lights set to flickering and interference sent through the comm relays, but at least she was easy to locate this way.
Days went by in this manner as Niko made sure she ate and drank and had clean clothes after running her through the shower. Poor Niko had the thankless job of taking care of the broken woman, trapped as she was inside her thoughts, silently struggling through the vicious cycle that was reinstated with each bout of introspective awareness. There were reasons Niko shielded her from the truth and why her salient insanity was never acknowledged or discussed. Reasons beyond compassion and clemency. Her powers became unpredictable and malignant - bad things happened and people got hurt. This wasn't the first time Theo had been presented with proof of her lunacy, so Niko knew it would run a course and if they were lucky she'd snap out of it before too long. And before anyone got hurt, but he wasn't going to mention that part to the others. Theo just needed time for her deranged mind to force a cognitive recalibration, a reset switch of sorts. Theo could not come to terms with her mental illness and attempts to force her to accept the reality of her condition never ended well. You could not force a reality-warping witch to endure a debilitating fact of existence when it was in her power to change it or in this case, conceal the truth from herself. That had been the decision her doctors and Niko arrived at when she was very young and complete truthfulness was a cruelty Theo did not deserve and for which they deemed necessary precautions would be taken.
To Theo's credit, this time at least, she weathered the onset well and this circuit seemed primed to blow over without further incident. But day four was always the worst.
tbc