Summary: Rix's Lovable Pet Gecko
Mud
Owned by: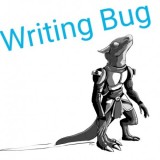 Writing Bug
Gender: Male
Age: 3
Group: Creatures
Game: Xierheart: The Kingdom of Arcadia: Origins of the Dark Lord
Race
Bipedal Gecko, found in swampy forests.
Skill/Magic
No skills or magical abilities. Although he is good at retrieving small objects from narrow crevasses. He is also able to trip up opponents and distract them by his cuteness and weird arm motions he often makes, like a wizard casting a spell. He is a good climber, and can run pretty fast.
Rank/Title
No Rank or Title
Physical Appearance
He is 9 inches long, and 6 inches tall, weighing only a few ounces. He has brown scales, and big light green eyes. His hands and toes are all webbed, and he has tiny, jagged teeth, which hurt if your bitten. His skin is a little wrinkly, but that's an natural thing.
Personality and interests
Mud is quite energetic, since when he is introduced to an new area, he tries to scout and explore it in any way possible. He is a good climber, and will hop up walls if needed. He is somewhat of a coward, and will flee from most dangers. He may sometimes ignore orders, but when given a task, he will take it on with all he has.
History
He was a young hatchling when Rix found him inside the bucket. The walls were too slick to climb out of, so he was stuck in there for days, starving. Rix raised him, nurtured him, and gave him a home. He was joyous when Rix bought a home in the city, more space to run around in. And today, he still runs around, and is known by the locals in that part of the city.
---
This character is owned by: Writing Bug
Character questions
Recent Activity
Mentioned in the post
Pain
Feb 27, 2019, 7:34pm
Mentioned in the post
Pests
Feb 26, 2019, 8:25pm
Mentioned in the post
Rock Toss
Feb 16, 2019, 10:06pm
Mentioned in the post
Not her!
Feb 12, 2019, 5:44pm
Mentioned in the post
Undead
Feb 5, 2019, 7:29pm
Updated character profile
Jan 20, 2019, 12:29pm
Updated character profile
Jan 20, 2019, 9:44am