Deleted character
This is an old character & has been deleted.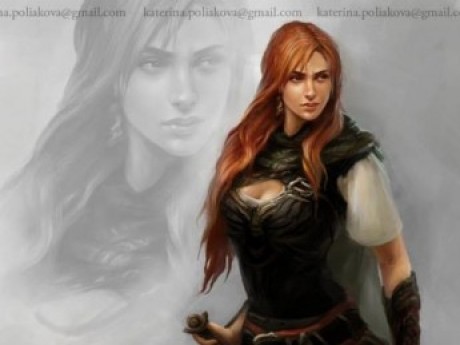 Summary: The woman behind the legend
Lady Amdir Elgarain
Owned by:
golani
Gender: Female
Age: 182 (appears to be in late 20s)
Group: human
Game: Tales of Terridia
Nationality
Ulthgar
Job/Skill
ranger, hero, legend, elf-friend
Rank/Title
Lady Amdir
The legendary woman warrior known as "fire-hair," or "flame-hair."
The elves call Amdir "the red wolf."
Physical Appearance
Height 6' 2"
Eyes: green
Hair: Red
Amdir's physique is of a warrior who has spent much of her time outdoors or in combat. However, Amdir possesses far greater strength and stamina than even the strongest of men.
In addition to her bow, Amdir is armed with "Coldfang," a magical sword given to her many years ago by the elves. It has the ability to project a halo of cold and frost from its blade.
Personality and interests
Amdir is fierce, brave, honorable, and has a backbone of iron. She has never given up in her fight against the Empire, despite the many setbacks she has has faced.
She has developed a deep sense of sarcastic humor, which often comes out during combat. At times Amdir can be a bit a rogue, and loves the drink and merriment of a good tavern. Amdir also has a soft side, but she tends to keep it bottled up after the years of combat she has seen.
Many think Amdir is just a legend and long dead. The elves and a few of the Northwood Knights know better. The stories about the "flame haired warrior woman" have spread far and most were exaggerated over the years during their repeated telling. Amdir has never bought into her legend, and often finds it amusing. However, she has never hesitated to use it when she needs too.
History
Lady Amdir Elgarain is one of the last of the Ulthgar, a race of man who had interbred with the elves to produce what are occasionally called "half-elves". Long lived, and possessed of nobility of spirit and body, there were never many Ulthgar to begin with. The elves tried to protect their friends from the growing power of the Empire, inviting the Ulthgar to to live within their lands. However, the Ulthgar were a proud people and many politely declined the offer. They subsequently perished in the Empire's invasions to the ever lasting regret of the elves. The rest were scattered and many later died in battles against the Empire.
Favourite Sayings
"Reality is usually far less impressive than the legend."
Favourite food
Amdir loves the meat of hunted game, but truly can't pass up a good pint of beer.
---
This character is owned by: golani
Character questions
Recent Activity
Mentioned in the post
Not Food
Jun 23, 2019, 10:35pm
Updated character profile
Jun 6, 2019, 11:36pm
Updated character profile
Jun 6, 2019, 11:32pm
Updated character profile
May 8, 2019, 10:03pm
Updated character profile
May 8, 2019, 7:27pm
Updated character profile
May 7, 2019, 10:54pm
Updated character profile
May 7, 2019, 10:54pm
Updated character profile
May 7, 2019, 10:26pm
Updated character profile
May 7, 2019, 10:25pm
Updated character profile
May 7, 2019, 10:21pm
Updated character profile
May 7, 2019, 10:19pm