Summary: A carelessly honest woman with a burning hate for any monsters that cross her path
Caroline Fisher
Owned by: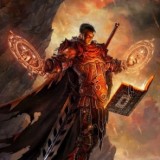 LucianNepreen
Gender: Female
Age: 25
Group: Humans
Game: Survivors
Nationality/Monster type (describe monster if you made it up)
American
Job/Skill
Monster hunter
Hobbies
Caroline spends most of her time seeking out stray monsters and hunting them down. When she isn't working, she can be found on the dance floor of the nearest night club.
Physical Appearance
Long brown hair and brown eyes. She's about 5'7" tall with a lanky built. She takes care of her appearance more than she really needs to and always dresses to impress, unless on a hunt.
Personality and interests
Caroline is a relatively harsh and honest woman. She says what comes to mind and has an unlimited amount of confidence. She doesn't really listen to others if it comes to advice or demands even if they're valid and important. On top of that she has a bad habit of smoking that she doesn't care to rid of.
Her interests include any weapons that will blow out the brains of a monster and men who are nice to look at. She also enjoys the pleasures of music as long as it fits her tastes— metal and disco.
History
Caroline was raised alongside her younger brother and older sister by a single mother who had an intense drug addiction and could never hold a home for them. She spent most of her childhood traveling from motel to motel and cursing her mother behind her back. When she was 18, her brother went missing alongside a bunch of other children in the neighbourhood. They later discovered that he was taken by a vampire who took pleasure in praying on little kids. Since then she wanted nothing but every monster she came across dead.
Anything else you'd like to mention?
Caroline is part of a little organisation called 'the Hunters'. It's made up of about thirty humans with a burning hate for monster. Together they track down the creatures and kill them for there are no laws that say anything against it.
---
This character is owned by: LucianNepreen
Character questions
Recent Activity
Mentioned in the post
Who Am I
Jul 12, 2019, 2:11am
Mentioned in the post
Monster
Jul 12, 2019, 1:07am
Mentioned in the post
Where to?
Jul 11, 2019, 10:38pm
Mentioned in the post
Dinner
May 20, 2019, 11:44pm
Mentioned in the post
The Lodge
May 20, 2019, 11:37pm
Mentioned in the post
Invitation
May 20, 2019, 11:27pm
Updated character profile
Feb 3, 2019, 2:34pm
Updated character profile
Feb 3, 2019, 2:33pm
Updated character profile
Feb 3, 2019, 10:26am