Summary: Do the world a favor, shut up and die.
Matthew Lebins
Owned by: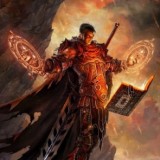 LucianNepreen
Gender: Male
Age: 27
Group: Humans
Game: Survivors
Nationality/Monster type (describe monster if you made it up)
Completely Human.
Yep.
Nobody more human.
Job/Skill
Hunts monsters
Hobbies
Is a collector of trophies. Tomes of knowledge, ancient artifacts, trophies from his hunts.
Physical Appearance
6'5"
Well built, black hair that is kept short or medium length.
Left eye is missing, though he wears shades to hide it.
Personality and interests
Very social around humans, often frequenting bars and buying rounds.
When he is hunting, he is very serious and is willing to kill any monster, man woman and child.
History
Coming from a line of hunters, while most chose to forget the war, the Lebins chose to prepare. Training since childhood, each generation lives and dies as a hunter, seeking to protect humanity from the creatures of myth and legend.
This is the life chosen for Matthew, moving from State to state hunting monsters.
Losing an eye during one of his first hunts, he has added half-breeds to the list as well.
Anything else you'd like to mention?
If the hints are not obvious, Matthew is hiding his true identity.
---
This character is owned by: LucianNepreen
Character questions
Recent Activity
Mentioned in the post
Enough
Mar 7, 2019, 10:02am
Mentioned in the post
Snort
Mar 7, 2019, 1:14am
Mentioned in the post
Condor
Mar 7, 2019, 12:49am
Mentioned in the post
Look Out
Mar 7, 2019, 12:23am
Mentioned in the post
Idle Plans
Mar 6, 2019, 10:44pm
Updated character profile
Feb 27, 2019, 12:19am
Updated character profile
Feb 27, 2019, 12:12am