Summary: Currently a college student
Newo Chapel
Owned by: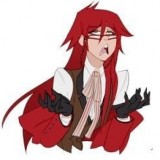 LaserSexPanther
Gender: Trans-Woman
Age: 19
Group: Oracle Citizen
Game: Machine God
Physical Appearance
Tall with long legs, skinny but lacks the curves. Long red hair and green eyes. Wears red glasses that hang on a chain. Very slightly puffy lips.
Personality and interests
Slightly nervous and timid, goes out of her way to just stick out of the lime light so long as they are they way they are now. Though she usually tries to hid it under the attitude of not caring.
History
As a child she didn't fit in. Hiding aspects about herself. Changing little bits at a time. First growing her hair claiming they just liked it long. But one day went all out, wearing make-up and a girls uniform to school. She did get beat up, but didn't go back to wearing the boys uniform.
Occupation
Student
Part-time at a "50's Inspired" diner. (that looks more like a drunk person describing a TGI Friday's that's never seen one)
Special Skills
Decent at fashion
Motivations
Hoping to gain the confidence and changes she wants.
Supporting Cast
Dukes, 'Big' Mac (the Cook), and Lisa (her boss)
Implants and Enhancements
currently no implants or enhancements other than basic survival mods for Mars.
---
Character questions
Recent Activity
Updated character profile
Sep 11, 2019, 6:03am
Mentioned in the post
A Bad Day
Jul 26, 2019, 10:03pm
Updated character profile
May 9, 2019, 12:21am
Mentioned in the post
Work Redux
May 5, 2019, 3:57am
Mentioned in the post
Creep
Apr 5, 2019, 8:33pm
Updated character profile
Mar 20, 2019, 3:04am
Updated character profile
Mar 17, 2019, 5:21am
Updated character profile
Mar 17, 2019, 5:21am
Updated character profile
Mar 17, 2019, 5:17am
Updated character profile
Mar 17, 2019, 5:07am
Updated character profile
Mar 17, 2019, 4:06am
Updated character profile
Mar 16, 2019, 5:42am
Updated character profile
Mar 15, 2019, 8:45pm