Summary: There is no bond greater than one between an Alpha and his Neophyte.
Romeo 457 aka Frosty
Owned by: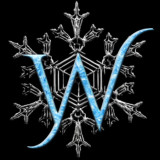 Winters
Gender: Male
Age: 24
Group: Oracle Citizen
Game: Machine God
Physical Appearance
Like all Alphas Romeo stand roughly 6'1 and had the build of a young man who spent his entire life as a military professional. His most overt attribute as an Alpha is his "dog eyes", black sclera and copper colored irises. He has a peachy skin tone with dark brown hair. It's normally swept back but if left to its own devices tends to puff in lazy curls and waves. Romeo edges more on the pretty boy in terms of appearance giving his given name "Romeo" a more ironic twist. His armor is tagged with an image of Frosty the Snowman armed with a machine gun.
Personality and interests
Much like his callsign "Frosty", Romeo is cool, unflappable and even-tempered under pressure. He often takes up the big brother role among the Alphas often delegated to showing them the ropes. Even bonded Romeo remained rather chill, that isn't to say though he isn't protective or even quickly turn violent if one were to distress his Piper.
He likes watching a variety of sports (and play them), board games (he has a competitive streak), Romeo also really enjoys mentoring and help find Bonds for young Alphas.
History
Romeo like all his brother was tank born and trained from childhood to be dogs of war. Not only that but born to bond and protect there chosen Neophytes. All in all, he was a rather typical specimen if anything he rated highest in empathy. Giving him a natural skill in teaching and mentoring other Alpha as they transition from training to the real world.
Romeo met Piper not too long out of boot, they clicked pretty early working together for nearly a year worked closely together before bonding with her. They seemed and natural fit together.
Occupation
He and Piper excel at hunting and acquiring Neophytes who have slipped through the crack or have gone rogue. That is their primary duty.
Special Skills
As an Alpha, Romeo is able to see in AR and while not on the extreme end of the spectrum still has inhuman reflexed and coordination.
Motivations
Romeo primary lot in life is the well being and protection of Piper, above himself and even another Alpha or Neo. He honestly believes they both are working to make the city a better place to live for everyone. Even if he won't live to see it.
Supporting Cast
TBA
Implants and Enhancements
As an Alpha who works with Neophytes he cannot have implants or cybernetic implants of any kinds.
---
This character is owned by: Winters
Character questions
Recent Activity
Mentioned in the post
Pillowtalk
Aug 6, 2019, 6:19pm
Mentioned in the post
Hard Candy
Aug 5, 2019, 11:54pm
Updated character profile
Apr 1, 2019, 12:37am
Updated character profile
Mar 31, 2019, 12:42am
Updated character profile
Mar 31, 2019, 12:42am
Updated character profile
Mar 31, 2019, 12:39am
Updated character profile
Mar 31, 2019, 12:37am
Updated character profile
Mar 31, 2019, 12:37am
Updated character profile
Mar 31, 2019, 12:36am