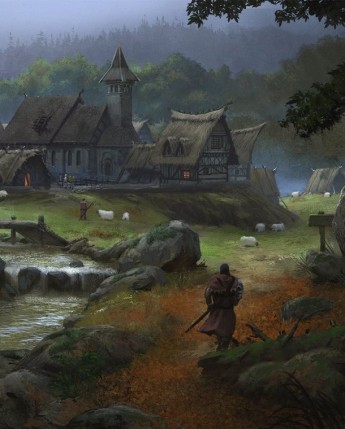 Description
Everyone has a story, a tale, and a past. In Warfall, everyone knews everyone, and nearly everything about them. But when the war came, the people were changed, hardship caused distance, instead of union. Five years later, the war had concluded, and now is the time for new bonds, and for the people to return to their normal lives. But the memories of war still reside in the minds of soldiers. So it is up to everyone to help the village heal, and to bring everyone back together.
Warfall is known as the land between hill and water. Although hill is an underexaggeration, for these hills rise to impassable heights.
The area closer to the lake, which Warfall is located by, is made up of farmland. The forested central area is focused on lumber and trade. The mountains are centered on the mining of stone and other deposits. There are trade routes to and fro the village, which brings business and new locals. In this medieval fantasy game, there are plentiful races, but right after a war, racism is a sadly common affair. Unless your tough and know how to fight, you best be wary.
So who will you be, how will you live, and will you make a difference in the Village of Warfall?
---
Latest story summary:
With the funeral in Warfall a thing of the past, those with the will set off for Stonehall while those interested in the happenings at the graveyard keep a close eye.
Posted by: White_Caribou on May 14, 2019, 1:19am
---
Story Posts
Utter Truth
May 22, 2019, 11:36pm by LucianNepreen
The elf's pet had been growling at the Sphinx as he approached, which didn't bother him since he expected such a reaction from a lower creature. What made him furious was the elf herself ret ...
Showing 4 out of 138 posts
---
Post Summary
| | Jan | Feb | Mar | Apr | May | Jun | Jul | Aug | Sep | Oct | Nov | Dec |
| --- | --- | --- | --- | --- | --- | --- | --- | --- | --- | --- | --- | --- |
| 2019 | | | 73 | 32 | 33 | | | | | | | |
---