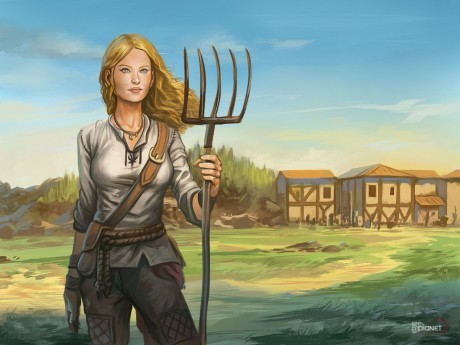 Summary: What harm will some hard work do?
Claire Van Well
Owned by: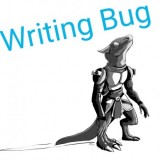 Writing Bug
Gender: Female
Age: Young Adult
Group: Farmers
Game: Village of Warfall
Race and Employment
Human
Farmer and owner of the Van Well Family Farm
Skills/Strengths
Surprisingly strong, hard working, and clever. She never gives up on a job, and has a well scheduled look on life. Plans ahead. She is charismatic, and protective of her little (short) sister. She loves animals, and prefers them over the company of people.
Weaknesses/Phobias
Bossy and has a bad attitude. She may spend too much time working. She is afraid of heights, and prefers to stay on her property.
Physical Appearance
She has long, blonde hair, and a womanly figure. Her green eyes and white teeth shine brightly and joyously. She is almost a foot taller than her sister, and has a more, curvy frame than her. To the men, she is a light skinned figure of beauty.
Personality and interests
Her outlook is positive, and she is more than willing to offer her help. She loves animals, and will spend her time watching the birds sing and the rabbits hop around. Likes to chew on the stems of wheat, like a stereotypical farmer.
History
She, along with Jillian, spent their childhood on the family farm, working hard to take care of the animals. The most dangerous thing she has ever done was climb a tree in her field. Even though she only managed to get twelve feet up, she was still scared. Which is why she dislikes heights. She claimed ownership of the farm when the parents died, and has hired a few men to help work the farm.
Favourite Sayings
Hey boys, get back to work.
It's a nice day for some chores, don't ya think.
Relationships with Others in Warfall
She has grown somewhat distant with her sister, but they still share the family farm. She has been with a couple of the men in the town, but is saving herself for the right one.
Equipment and Items
An dagger, some farming tools, grains, and some wheat for chewing on.
---
This character is owned by: Writing Bug
Character questions
Recent Activity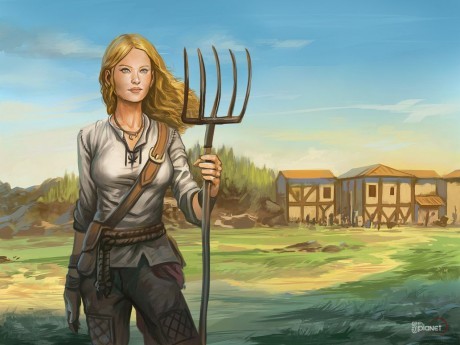 Updated character profile
Mar 25, 2019, 4:21pm