Summary: The woods speak should one merely listen. They also cry out for the sake of lost life.
Tei'ron
Owned by:
Chris
Gender: Male
Age: 149
Group: Soldiers
Game: Village of Warfall
Race and Employment
Elf, Returning Soldier
Skills/Strengths
Excellent tracker and ranger, expert marksman with a longbow, decent with close quarters dagger play and throws, and a tad bit of untapped (and unknown to him) magic tied to his Elven heritage.
Weaknesses/Phobias
He is pretty much in a depressed state given the losses he suffered during the war. He is also not sure how his kin will possibly welcome him back after getting involved in the war. Tei'ron definitely feels lost in the human village.
He is also not so strong so close quarters combat so his throws don't always work out so well.
Tei'ron does not understand sarcasm and general human jovial nature, even after serving with them for several years in the war.
Physical Appearance
Tei'ron carries himself with pride, although mostly these days it is a mask for his feelings of loss. He still comes across as arrogant and xenophobic like most Elves. But after war, those feelings have washed away for him and he accepts many different races.
He is almost always wearing his cloak and has his bow and quiver on him, even when not in battle. As he settles into Warfall with a possible place to live, he may be found without the bow and armor on.
The Elf has long blonde hair, tied in a few tails, with a face that looks like it was once effeminate but has grown broader and rougher over time.
Personality and interests
Not yet completed
History
Still filling out, but returning to Warfall with some fellow soldiers - his entire Elven ranger squad died in a single battle.
Favourite Sayings
Not yet completed
Relationships with Others in Warfall
None, save a few humans he got to know.
Equipment and Items
Elven light armor, superb longbow with excellent arrows, two daggers, a small belt satchel with supplies (quick bandages, coins, etc), long protective cloak. His armor is golden although not always so bright, and his cloak and clothing are mostly brown.
---
This character is owned by: Chris
Character questions
Recent Activity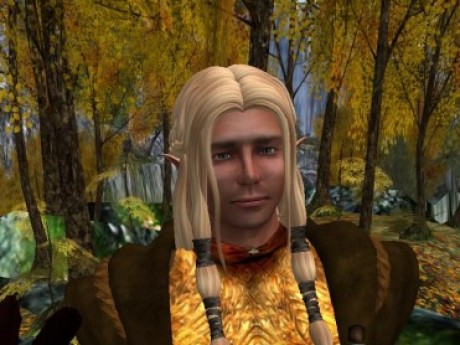 Mentioned in the post
Arrival
Aug 13, 2019, 6:21pm
Updated character profile
Mar 20, 2019, 9:25am
Updated character profile
Mar 14, 2019, 11:38pm
Updated character profile
Mar 14, 2019, 11:38pm
Updated character profile
Mar 14, 2019, 11:34pm