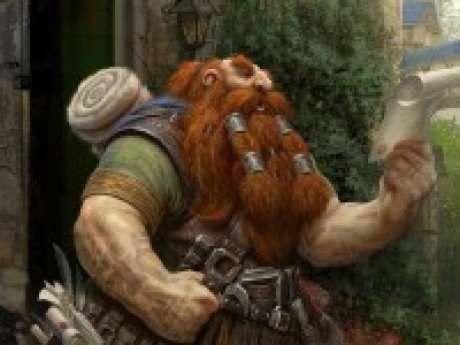 Summary: A short man in a tall man's village.
Thromgin Forge-Stout
Owned by: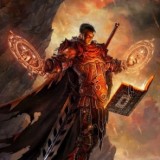 LucianNepreen
Gender: Male
Age: 63
Group: Shop-Keeper and Store Owners
Game: Village of Warfall
Race and Employment
Dwarf
Co-Forge master of Mountain's Sorrow.
Skills/Strengths
Forge magic- Able to imbue tools and weapons with runes. While not considered true pyromancy, can heat his hands until glowing white.
Still in his prime, can lift a heavily laden wagon by himself. Although not a learned dwarf, can trust his instincts.
Weaknesses/Phobias
Has isolated himself from everyone except his forge brother, often leading to nasty outbursts towards others. Once in an outburst, cannot be talked down until he can calm himself.
Has a distrust of humans.
Physical Appearance
Short, standing at around 4 foot. Wider than he is tall and stocky.
Has a full beard, down to his waist, that is kept in a tight braid. Trinkets and dwarven symbols adorn it.
Wears simple clothing, cloth and an apron, even when not at his forge.
Personality and interests
Everyone else sees Thromgin as a sour man, never one to join a bar song or even enter light conversation. He often ignores his customers unless to ask for specifics on his work.
Will still help if danger nears, wanting nothing in return and continuing his gruff appearance after.
When around Erik or alone, will change his demeanor to a softer tone, feeding animals or sharing stories.
Has a distrust of humans for what he saw during the war.
History
Living with his kin in the mountains, Thromgin enjoyed a rather simple life as a miner, soon becoming a talented craftsman under a mentor. When war came, his hold was ravaged by both refugees and attackers following them, leading to his people scattering.
After surviving the war wit the help of Erik, Thromgin returned to see his beloved home in ruins, scavenged by the enemy army and other survivors.
With no place to call home, he followed Erik to the village of Warfall and opened The Mountains Sorrow.
Favourite Sayings
"What'ya want"
"Go be with your own."
Relationships with Others in Warfall
Only has a friendship with Erik, his forge brother.
Equipment and Items
Carries tools necessary to smithing and applying runes.
A water skin
His hammer
---
This character is owned by: LucianNepreen
Character questions
Recent Activity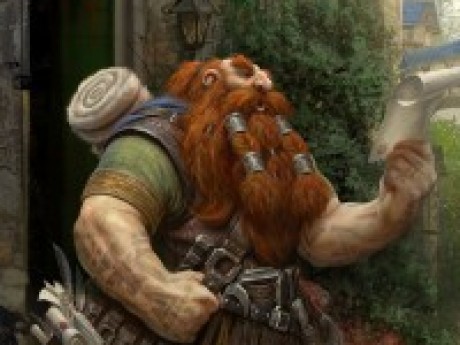 Mentioned in the post
Town
Jul 11, 2019, 10:40pm
Mentioned in the post
Spell
Jul 8, 2019, 4:39pm
Mentioned in the post
Six Feet
Jul 8, 2019, 11:32am
Mentioned in the post
Hidden
Jul 8, 2019, 2:32am
Mentioned in the post
Alive
Jul 6, 2019, 10:14pm
Updated character profile
Mar 19, 2019, 10:21am
Updated character profile
Mar 19, 2019, 10:18am
Updated character profile
Mar 15, 2019, 5:28pm
Updated character profile
Mar 15, 2019, 1:12pm