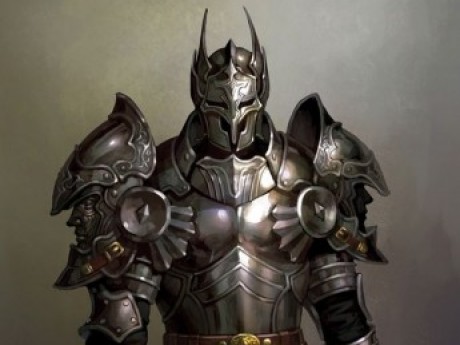 Summary: A Iron Willed Newcomer with a Mysterious Existence.
Tech (The Iron Knight)
Gender: Male
Age: Unknown
Group: *Place Holder*
Game: Village of Warfall
Race and Employment
Machine/Goblin
A streamlined knight that seems to be a cyber goblin
Skills/Strengths
Made of iron, and has a blade/projectile launcher called Steamblade. The weapon has three setting. One that produces little flaming pellets. Another that shoots little metal pellets, and one that produces some sort of electrical discharge. The Steamblade takes a while to switch between projectiles. He is powerful, intelligent, and can perform some handiworks with metals.
Weaknesses/Phobias
Very slow, and heavy. He has many weak-points in the suit, because of age. His metallic armor is susceptible to corrosion from fire, and rusting from water. He believes that everyone hides their own evils, and his kind ways often force people to conform to his best image.
Physical Appearance
7'4 ft tall
The Picture is the suit, he has lime green skin, his lower jaw is metal, his left eye is mechanical, the crown of his head is covered in metal. A gear is the side of his metal crown is a gear the moves clockwise.
He has a deep harsh voice in the suit. He has a harsh medium voice without it.
Personality and interests
Smart, quick thinking at times, planner, doesn't like to talk a lot. He is more focused on work than on luxuries, and would rather get the job done than lollygag.
History
The Iron Knight came to the village, without any say of where he came from, or why he chose to come here. It just adds to his mystery. He was an old friend of Kuz that turned into a nemesis due to the black box Kuz currently has.
Favourite Sayings
" Everyone has their inner demons, sadly, many are consumed by them."
Relationships with Others in Warfall
He knows who Kuz is, although he has never been to the village. Kuz and him use to be best friends.
Equipment and Items
Suit
Tools
A gun sword called the Steamblade, with its three projectile settings.
Carries a katana with a blade jade blade and red markings on the handle and blade.
---
This character is not owned by anyone. You can adopt them if you become a member of this game.
Character questions
Recent Activity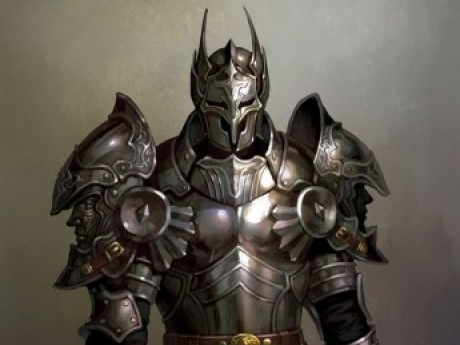 Updated character profile
Jan 8, 2020, 2:28am
Mentioned in the post
No help
Jul 1, 2019, 10:53am
Mentioned in the post
Thus far
Jun 30, 2019, 8:54pm
Mentioned in the post
Tyrant
Jun 30, 2019, 4:17am
Mentioned in the post
Refuse
Jun 27, 2019, 1:24am
Mentioned in the post
Pillars
Jun 26, 2019, 4:56pm
Updated character profile
Jun 8, 2019, 12:26am
Updated character profile
Mar 25, 2019, 4:47pm
Updated character profile
Mar 25, 2019, 4:47pm