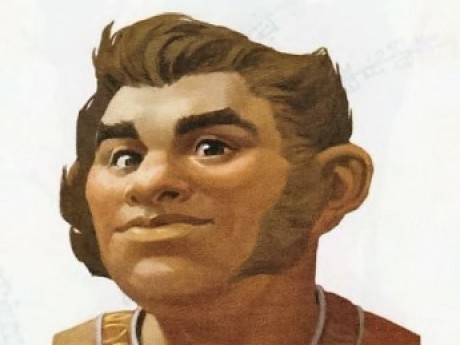 Summary: An anxious baker desperate to bring the community together, one cake or loaf of bread at a time
Mikail Bolgerson
Gender: Male
Age: 27
Group: *Place Holder*
Game: Village of Warfall
Race and Employment
Halfling, baker
Runs the 'Hollow Knock' a small bakery located on the outskirts of Warfall
Skills/Strengths
A natural with yeast, Mikail can conjure up tantalising aromas with nought more than flour and water.
Surprisingly good with a sling on account of idle hours chasing crows from the herb garden at the back of the 'Hollow Knock'
Strong tolerance to heat
Weaknesses/Phobias
Dislikes conflict and hostility. Tendancy to flee as opposed to stand his ground unless pushed to the limit.
Gets a regular workout from kneading dough but will struggle to beat a snail in a race.
Seeks to satisfy everyone.
Physical Appearance
Mikail, rarely seen without his white apron, is best described as short and rotund. He has powerful forearms but is otherwise carrying the signs of someone who makes sure that every batch of cakes and pastries tastes delicious. A pudgy, often sweaty face will peer at customers in concern until they show some sign of satisfaction, at which point it will break into a beaming smile. Short curly brown hair that is often given a white dusting of flour and squeaky voice round out this halfling.
Personality and interests
Mikail is desperate to please people and bring them closer together.
He hates seeing the racial conflicts that exist following the war but shys away from any sort of conflict if he can, tending to retreat to his kitchen.
History
Mikail and his brother moved to Warfall just before the war started. Sadly his brother lost his life in the conflict, leaving Mikail to struggle to integrate into the village and run the small bakery they had set up.
People who break bread together cannot keep fighting. And the better the bread the more likely they are to break it. In light of all the tensions around the village, Mikail now strives to bring back the sense of community and acceptance that he remembers from before the war, as well as to gain a place in the village for himself. All those who stop by the 'Hollow Knock' are guaranteed a tasty treat, if you can put up with the nervous attentions of its keeper.
Favourite Sayings
"If you can all sit together and enjoy the same food then this village will be a happier place!"
"You like it? Ah that makes me happy!"
"Umm, please stop shouting. I'm just going to go back here..."
Relationships with Others in Warfall
Tentative. Villagers appreciate his food but haven't fully accepted him into the community.
Equipment and Items
Apron
Bread knife
Sling
---
This character is not owned by anyone. You can adopt them if you become a member of this game.
Character questions
Recent Activity
Updated character profile
Jan 8, 2020, 2:27am
Mentioned in the post
Assistant
Jul 18, 2019, 3:48am
Mentioned in the post
Job offer
Jul 14, 2019, 2:14am
Mentioned in the post
Baker
Jul 9, 2019, 1:53am
Mentioned in the post
Story
Jul 4, 2019, 1:52pm
Updated character profile
Jul 1, 2019, 2:34pm