Summary: The Being will work to save the multiverse, no matter what it takes.
The Being
Owned by: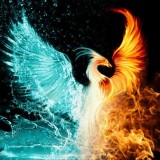 Nim
Gender: Presumed Male
Age: Ancient
Group: Divine Entities
Game: Engines of Chaos Redux
Place of Origin and Race
The Being exists in a dimension called the Crossroads. The Being claims he's a god.
Physical Appearance and Preferred Attire/Equipment
he appears to be really big, made of an organic, silvery-white material, and has numerous arms. His waist up appears to protrude from the earth.
Personality Quirks, Interests, and Goals
The Being is polite and appears to be wise and all-knowing, or at least nearly so. He claims his goal is to save the multiverse from itself.
Powers, Skills, and Strengths
He seems to know a lot, he can Awaken soulcharged people, he can create magic talismans that can enable people to navigate between universes much more easily than would otherwise be the case, and he can somehow summon people to the Crossroads.
Weaknesses, Flaws, and Limitations
Despite claiming to be a god, the Being appears to be utterly unable to halt machinations of the other factions through his own power.
Character Job, Rank, and/or Titles
The Being claims to be a God of life and the Protector of the Multiverse.
Backstory
To be revealed...
Player Goals for Character
The Being is intentionally supposed to be mysterious so as to create some tension. He is primarily designed to facilitate the heroes plots. He can be used by moderators whenever necessary, and non-moderators can feel free to write some words and actions for him as long as they keep with the theme of him being wise, benevolent, and formal.
Player Questions and Moderator Feedback
Nothing at this time.
---
This character is owned by: Nim
Character questions
Recent Activity
Mentioned in the post
The Wilds
Jul 8, 2019, 10:22am
Mentioned in the post
Awoken
Jun 26, 2019, 11:08pm