Summary: The Monsters are real my dear, its just that we walk around in human skins and wear human faces...
Jason-02 a.k.a. Jay
Owned by: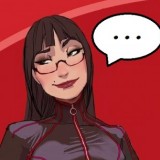 D2wintr
Gender: Male
Age: 20
Group: Awakend - Black
Game: Foundation Colony
Physical Appearance...
Once a rather attractive young man of medium build Jay's body is now a patchwork of scars and burns and a face that is not even remotely human in appearance.
Personality and Interests...
Jay is a Psychotic monster who while being highly intelligent is also a monster who has no love of man or beast.
Training and Skills...
A former Soldier Jay is skilled in hand-to-hand as well as an assortment of marshal skills.
Augmentations...
Unknown
Cast...
Flawed
Talent ...
Highly Intelligent and very gifted in working out the flaws in others.
Number ...
02
Equipment...
Restricted Access
Contacts,Friends,Family...
Jay is Flawed and he has no friends.
He did once have a Big Sister once but after he went psychotic her identity was hidden and is no longer public knowledge. ( Rumor is Jay killed her and ate her eyes. )
---
This character is owned by: D2wintr
Character questions