Summary: I'm here if you need me or even if you dont ...
Jenny-04
Owned by: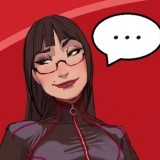 D2wintr
Gender: Female
Age: 19
Group: Awakend - Pink
Game: Foundation Colony
Physical Appearance...
Jenny is an attractive young woman with shoulder length dark hair and dark eyes.
Personality and Interests...
Jenny mission in life it seems is to help fix things be it people, problems, or situations.
This is not to say she is always successful but she always works towards that positive outcome and is alway ready with an ear to listen or a shoulder to cry on.
Training and Skills...
General Medical / Psychology / History Studies
Augmentations...
Cerebral Archive
System Ready Link
Cast...
Healer/Councillor
Talent ...
Empathic Ability
Number ...
04
Equipment...
*Display Eyeware
*Emergency Medical Kit
*Stungun
Contacts,Friends,Family...
Rebecca 06 (Little Sister)
---
This character is owned by: D2wintr
Character questions
Recent Activity
Updated character profile
May 6, 2019, 7:08pm
Updated character profile
May 3, 2019, 8:26pm
Updated character profile
May 3, 2019, 8:24pm
Updated character profile
May 3, 2019, 8:02pm
Updated character profile
May 3, 2019, 7:51pm