Summary: A dangerous hunter with a cold heart
Jason Russo
Owned by: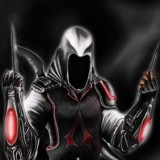 TheCentry01
Gender: Male
Age: 27
Group: Analysis: H
Game: Dusk's Shadow
Race:
Human
Power/Skill
Sharpshooter, stealthy and good in hand to hand fights
Weakness/Fear
Watching anyone close to him die, and also giant spiders.
Physical Appearance
Tall, 6'5, skinny but muscular. Dark hair and grey eyes, though his face is generally covered by a hood and mask.
Personality and interests
He's a loner really. He is a hunter but is not apart of the order he goes solo.
History
He was on a special forces mission when everything went kind of strange. He was covering his unit from a distance when he heard screaming. He looked through his scope and saw his team being torn a part but a weird creature. He shot and killed the creature but it was to late everyone was dead. Because of the incident he tries to keep his distance from people and has grown cold. He works alone and takes care of the worst of the worst.
Rank/Title
S class hunter.
Family/ Grudges/ Allies/ Nemesis.
No family No allies. Grudge against any and all Monsters
---
This character is owned by: TheCentry01
Character questions
Recent Activity
Mentioned in the post
Waking up
Jun 22, 2019, 1:58am
Mentioned in the post
Camp
Jun 21, 2019, 3:33pm
Mentioned in the post
Quietly
Jun 14, 2019, 10:07am
Mentioned in the post
Deal
Jun 14, 2019, 1:58am
Mentioned in the post
Stay
Jun 13, 2019, 10:51pm
Mentioned in the post
Tell?
Jun 13, 2019, 10:43pm
Mentioned in the post
Explain
Jun 13, 2019, 10:18pm
Mentioned in the post
Truth
Jun 13, 2019, 10:15pm
Mentioned in the post
War
Jun 13, 2019, 6:37pm
Updated character profile
Jun 9, 2019, 4:05pm
Updated character profile
Jun 9, 2019, 2:35pm