Summary: " I'm death."
Maxwell Tunrin
Owned by: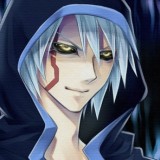 Enderslayer
Gender: Male
Age: 26
Group: Civilians
Game: The Mafia and The Cops
Nationality
Mexico
Job/Skill
Hitman
Skilled in hand to hand combat, assassinations, framing, and public executions
Rank/Title
The Reaper
Physical Appearance
Brown hair, left eye is brown, right is yellow. 6'4 skinny and athletic. Pale skin, right side of his face is skull like due to a wound.
Personality and interests
Cold, likes to make dark humour jokes, likes to murder bad people.
History
The Reaper has killed many people, he lived in a small town in Mexico, he was trained how to fight by his father. He got the wound on the right side of his face by a chemical know as Chemical Zx. He is one of the greatest Hitmen in the world.
Favourite Sayings
"Ding Dong."
Weapons of Choice
Blades, melee weapons.
Crime Family
The Diablo Clan
---
This character is owned by: Enderslayer
Character questions