Summary: The leader of the Ravaged clan
X
Owned by: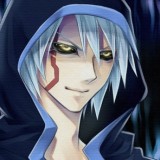 Enderslayer
Gender: Male
Age: 121, looks 20
Group: Plants
Game: Trigun: Tales From Gunsmoke
Affiliation
The Ravaged
Skills
Skilled in melee combat
Powerful leader
Strong
Fast
Plant power Beast mode, hands and feet turn into black claws, head into black horned dragon like.
His back gets covered black spikes. His teeth turn into black razor teeth. The longer he stays transformed the more his hair blackens
Rank/Title/Outlaw Name
Leader of the Ravaged
----------------------
The Ravaged beast
Physical Appearance
6'7, pale skin, red eyes, short blonde hair, wears a black overcoat,his whole body is covered in white bandages, black jeans, and combat boots. He wears a red demon mask over his bandage face.
Personality and interests
Cruel, likes to cause havoc, kills people that fail him, is very kind to children and women, kills other outlaws without blinking. Aggressive, short temper, and has a dark sense of humor.
History
X has been the leader of the Ravaged clan for 50 years. He is one of the oldest plants who broke out in a rage. He doesn't like outlaws due to watching them do cruel things to people. He controls a large area that contains 50 towns. The Ravaged act as order keepers above the mayors. They kill any corrupt people in charge as an order.
Favourite Sayings
"I keep this place in order."
Favourite food
Meats
Items and Weapons
His weapons are a black bladed scythe, two duel revolvers with blades on them and a katana with a black blade.
He has a amulet rapped around his left arm.
---
This character is owned by: Enderslayer
Character questions
Recent Activity
Mentioned in the post
No idea
Aug 20, 2019, 10:04pm
Mentioned in the post
Plan
Aug 6, 2019, 8:03pm
Mentioned in the post
R & R
Aug 1, 2019, 7:34pm
Mentioned in the post
Leave it
Jul 14, 2019, 2:17am
Updated character profile
Jun 9, 2019, 12:08am