Characters in this post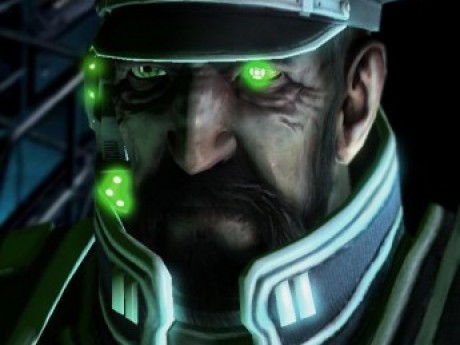 View character profile for: Hannibal Lecter
Just when things were going right...
Hannibal looked on as his 'bot's heat ray steadily cut through the irised door. Most of the ship was secure and Eva was busily digging through the vessel's extensive harddrives. All that was left was to capture a few living crew members for Peng. Then maybe he could get on with his delivery!
"Alright, listen up! Once my 'bots finish cutting through this hatch, they're going to start cutting through anyone who doesn't have their hands up. If you wanna live to face a trial, I'd surrender," he bellowed.
I HAVE CONTROL OVER THE CARGO BAY'S AIRLOCK. IF I WERE TO OPEN IT, BETWEEN TWO AND FOUR CREW MEMBERS WOULD BE ABLE TO DAWN EVA SUITS BEFORE PERISHING.
"I like the way you think. But alas, I fear Captain Peng would find such a method... distasteful," Hannibal said.
Before the convention could progress any further, the heat ray finished cutting and the hatch fell away. The 'bots immediately swarmed in, followed by assault marines. There was a brief exchange of gunfire, but the outcome was never in question. In the end, six crewmen, a scientist, and the first officer were taken prisoner.
Strolling through the cargo bay, he shouldered a dropped E-rifle and pocketed a few credit tabs. Wasn't like the dead would miss them. But as he made it deeper into the bay, he realized that much of it had been converted into laboratories. His bionic eye identified pieces of exotic equipment laying about and highlighted six massive, green tanks in which numerous unnatural looking creatures were suspended, motionless.
"You seeing this, Eva?" he said, stepping up to a console.
NONE OF THIS IS CONNECTED TO THE SHIP'S COMPUTER.
Hannibal didn't understand much of what he saw, but there was a timer counting down, which he also noticed on many of the other screens.
"I got a bad feeling about this," he said, stepping away and heading for the hatch at a brisk run.
Behind him the counters quickly reached zero. Then the air was filled with the sound of glass breaking!
"Shit! Sec bots, all of you! Get to the cargo bay!" he ordered. Then, "Run!" as he plowed into a group of marines.
Behind him, the 'bots could be heard klinking down the corridor. He could sense them trying to engage the monsters but the tracking softwear wasn't fast enough. They were all over the place! With a though click, he ordered them to be downright wasteful with their ammo. The sizzle of heat rays and crackle of laz rifles erupted. But he could sense one, then two going down in quick succession.
"Download everything you can, Eva," he said, practically shoving a marine down the boarding tube back to the Archangel. "Peng! Get your people back onboard! The gods damned ship's infested! I'm unhooking tube B. We'll hold out as long as we can at tube A."
Less than a minute later, the last of his SecBots was overwhelmed and tore to pieces. Hannibal stood with the handful marines at the remaining boarding tube, laz pistola drawn and ready.
I'VE SEALED AS MANY DOORS AS I CAN, BUT THEY DON'T SEEM TO BE MUCH OF A HINDRANCE.
"Shit! Eva, you never have any good news for me," he said, spitting.
CAPTAIN PENG WILL BE MOST PLEASED WITH THE INFORMATION I'VE DOWNLOADED. I'M RATHER CERTAIN THAT HE'LL CONSIDER HIMSELF TO BE IN YOUR DEBT, IF YOU SURVIVE.