Summary: Even on this rock, you still need cops to keep things civilised ...
Morganna Xi Shin
Owned by: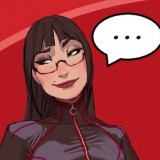 D2wintr
Gender: Female
Age: 28
Group: Colonial Military
Game: Jericho's Landing
Planet of Origin
New London Colony, Titan
Job/Skill/Specifications
-Colony Security Forces.
-Law Enforcement & Combat Specialist,
-Combat Medic Qualified.
Rank/Title
GySgt / Enforcer / Nurse
Physical Appearance
Attractive enough that she's not lacking in would be suitors. Shin is on this side of short with a solid build, fair features, and out of the bottle red hair.
Personality and interests
Shin is forward, almost blunt to the point of seeming brusque if not outright irritable. She also curses like sailor on shore leave.
She also has no head for politics "Or at least seems not too given her mouth " Nor much tolerance for beating around the bush when it comes to getting shit done.
Shin enjoys food, classical television, and music.
She's also big on physical fitness, Combat Arts, and Yoga. " She's been known to take down guys much larger then herself."
History
Born and raised in New London Colony on Titan, Shin grew up under the constant shadow of the Free Titan Separatist Movement until the official start of the War when she was just 17 and was drafted into the.
Central Systems Military profiled as and ideal candidate for Combat Medic.
Shin's time in service has earned her a number of awards and citations but none of these have ever replaced the husband and child she lost to a Separatist bombing of the CSM residential complex in her 25th year.
Shin honestly has no clue how she landed an assignment on the Jericho Mission but isn't one to look a gift horse in the mouth either.
Favourite Sayings
" Look, Its simple ... You push my button and I pull the trigger and light you up like a Christmas Tree ... "
"It's not just the paperwork that sucks, Its the asshole you have to turn it in to ... "
Player Notes
*While her husband and oldest daughter are dead her youngest "Sue Jun Shin" is still in stasis aboard ship and not due for release for another 1 to 2 years.
*Both of Shin's hands were lost during the war and replaced with prosthetics.
* Shin is currently engaged to Tommy "The Tank" Tanaka.
---
This character is owned by: D2wintr
Character questions
Recent Activity
Mentioned in the post
Incursion
Oct 6, 2019, 5:25pm
Updated character profile
Sep 17, 2019, 8:40am
Updated character profile
Aug 19, 2019, 10:34pm
Updated character profile
Aug 19, 2019, 10:15pm
Updated character profile
Aug 18, 2019, 2:56pm
Updated character profile
Aug 18, 2019, 1:01pm
Updated character profile
Aug 18, 2019, 9:56am
Updated character profile
Aug 18, 2019, 9:55am
Updated character profile
Aug 18, 2019, 9:50am
Updated character profile
Aug 18, 2019, 9:35am
Updated character profile
Aug 18, 2019, 9:20am
Updated character profile
Aug 18, 2019, 9:17am
Updated character profile
Aug 18, 2019, 9:14am
Updated character profile
Aug 18, 2019, 8:26am