Summary: They call me The Tank.
Tank a.k.a. Tommy Tanaka
Owned by: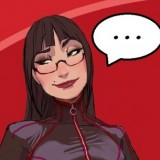 D2wintr
Gender: Male
Age: 31
Group: Colonial Military
Game: Jericho's Landing
Planet of Origin
New London Colony, Titan
Job/Skill/Specifications
Colonial Marine
-Heavy Weapons Specialist
-Mechanical Specialist
-Robotics Specialist
-Combat Engineer
Rank/Title
GySgt (E7)
Physical Appearance
Like his nickname implies 'Tank' is a big guy standing at roughly 6'5" and weighing in at about 290 lbs.
At some point he just adopted the idea that he preferred being bald and thus tends keeps his head as well as the rest of himself clean shaven.
Personality and interests
The nickname Tank comes from the term 'Think tank' because contrary to what many might think about him. Tank is pretty damn smart for a Marine his size.
When not playing super secret egghead for the Military. Tank is a total Dude who loves surfing, body building, cooking, and working with his hands.
History
Born in the New London Colony on Titan. Tommy grew up most of his life blissfully unaware of the troubles that were plaguing colony outside of the Agricultural domes where his father and mother worked. That was until members of the Separatist Movement took offense when his father failed to side with there cause during a public inquiry and executed him right in front of both him and his Mother.
Tommy joined the CSN after the official start of the War but was profiled early on as to smart to be wasted as a combat grunt and was instead tasked in the role of Combat Engineer. A role he served with honor and skill for the duration of his enlistment.
Tommy never would have chosen to join the Jericho Mission himself his focus on staying on Titan and helping to rebuild but his Mother had a vision of something more and volunteered for the mission recruiting both family and friends with a the idea of establishing a settlement as far removed from Titan and its politics as was humanly possible.
It didn't take much effort on her part to get her son to volunteer as well … after all who would look after her in her twilight years if not her beloved son.
Favourite Sayings
" Dude, Wanna head out early and catch some choice waves. "
" One word Dude, Salad, eat one!"
" Nah Dude, your cooking it wrong ... Turn the flame down low and add a little more curry and a dash of ginger "
Player Notes
Tank has been engaged to Xi Shin going on two almost three months. A pairing that most would not suspect save that Tanks Mother won't stop bitching about it to every one in the settlement. ( She had hoped Tank would hook-up with his friend Yuki Mori but it never happen. )
---
This character is owned by: D2wintr
Character questions
Recent Activity
Mentioned in the post
Incursion
Oct 6, 2019, 5:25pm
Mentioned in the post
Dem Bones
Sep 23, 2019, 4:45pm
Updated character profile
Sep 15, 2019, 9:17pm
Updated character profile
Sep 15, 2019, 8:49pm
Updated character profile
Sep 15, 2019, 8:49pm
Updated character profile
Sep 15, 2019, 8:47pm
Updated character profile
Sep 15, 2019, 8:22pm
Updated character profile
Sep 15, 2019, 8:22pm
Updated character profile
Sep 15, 2019, 8:16pm
Updated character profile
Sep 15, 2019, 8:09pm
Updated character profile
Sep 15, 2019, 7:58pm
Updated character profile
Sep 15, 2019, 7:57pm
Updated character profile
Sep 15, 2019, 7:13pm
Updated character profile
Sep 15, 2019, 4:26pm
Updated character profile
Sep 15, 2019, 3:42pm