Summary: Multi-purpose low altitude VTOL aircraft
SA-02c - Samson
Owned by: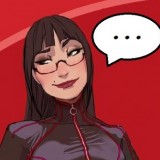 D2wintr
Gender: N/A
Age: N/A
Group: Mecha
Game: Jericho's Landing
Planet of Origin
Earth
History
The SA-2c Samson as colony aircraft goes is an ancient but practical design that was originally introduced to colony service well over a century ago.
The design is both durable and practical and easy to fabricate given current technology.
With the Introduction of a limited Intelligence A.I. the craft can in fact fly itself for the most part but lacks offensive or defensive ability and thus still requires the supervision of an aircrew.
A child could fly this thing ( And have ) Making the SA-2c an ideal training platform.
Favourite Sayings
" Emergency... Emergency... "
" Pull up... Pull up... "
Player Notes
The Samson SA-02c fills the role of a medium, multi-role utility helicopter such as the UH-1 "Huey" and Sikorsky UH-60 Blackhawk of old acting as transport and/or gunship for the colony.
With the introduction of limited A.I. To the standard units build these craft can in effect fly themselves were they need to go.
---
This character is owned by: D2wintr
Character questions
Recent Activity
Updated character profile
Oct 4, 2019, 10:51pm
Updated character profile
Oct 4, 2019, 10:43pm
Updated character profile
Oct 4, 2019, 10:33pm
Updated character profile
Oct 4, 2019, 1:47pm
Updated character profile
Oct 4, 2019, 1:45pm
Updated character profile
Oct 4, 2019, 1:44pm
Updated character profile
Oct 4, 2019, 1:42pm
Updated character profile
Oct 4, 2019, 1:40pm
Updated character profile
Oct 4, 2019, 1:38pm