Summary: Nabu's no longer.
Xavier (Dr. X) Dehlmar
Owned by: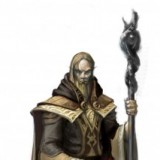 Lazerus
Gender: Male
Age: 17
Group: Ungrouped
Game: DC: War for Tomorrow
Parents
Unknown
Powers/Skills
Without Helm of Nabu:
No remarkable abilities, just a normal teenage boy.
With Helm of Nabu: (Modified to be fair in game)
Superhuman Strength
Telepathy
Damage Resistant (Not invulnerable)
Energy Blasts
Mental Shielding
Cloak of Destiny (Unavaiable at the moment)
Amulet of Anubis (Unavailable at the moment
Appearance
Xavier is a young teenage male, medium build and taller than average (about 2 meters). He does not have a menacing build normally, but once he dons the Helmet of Nabu he gains muscle density and appears to be much older than he is. His helmet is a golden yellow and he wears a full body blue suit with yellow outer-garments. He does not have hold of the amulet of Anubis or cloak of destiny currently.
Personality
Xavier has lived on the street his whole life, always moving to wherever food and shelter were available. This has made him very apprehensive and slow to trust anyone new. He is very quiet and calculated, preferring to take his surroundings into account before making decisions.
History
He has wandered between Star City, Gotham, and Metropolis his whole life. never truly understanding what it means to have a home or people to trust. The life of a wanderer has not been very kind to Xavier, but what even is normal anymore? Hearing the tales of the old heroes and how the world once was are all fairy tales, the only world Xavier has known has been dark and hateful. Through all of this, Xavier tries his best to carry out his own vision of what is right, at least when survival permits.
Codename
DR. X (Formerly Dr. Fate)
---
This character is owned by: Lazerus
Character questions
Recent Activity
Mentioned in the post
A Way Out
Oct 4, 2019, 12:49am
Mentioned in the post
Magic
Sep 24, 2019, 1:27pm
Updated character profile
Sep 11, 2019, 11:19pm
Updated character profile
Sep 11, 2019, 7:16am
Updated character profile
Sep 9, 2019, 8:15pm
Updated character profile
Sep 8, 2019, 5:06am
Updated character profile
Sep 7, 2019, 8:06pm