Summary: None
Casper L. Davis
Owned by: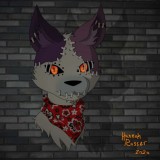 WolfyWolf
Gender: Male
Age: 57 (looks 45)
Group: Ungrouped
Game: DC: War for Tomorrow
Powers/Skills
-High intelligence and an overwhelmingly perfect memory.
-The ability to essentially teleport through the manipulation of shadows. He can control lighting and manipulate shadow as something physical.
-Esentially telekinetic.
-with his shadow abilities, he can also become intangible. In fact, his physical body is barely what holds his existence anymore. Essentially, he is now a shadow creature in the shape of a human.
- control over corvids (crows/ravens/magpies/jays)
-general magic. He can do just about anything, it just takes some figuring out.
(He and his magic operate on a system of balance. He can't do something just because.)
Appearance
Not particularly tall or intimidating, Casper Davis stands around 5' 11" with brown eyes and maroon hair.
Personality
He gives off the impression of somebody both professional and intelligent- which he is.
He's calculating and calm, only occasionally turning cold or harsh.
He prefers to analyze something from every angle before acting or making a decision.
History
From an alternate world where things turned apocalyptic, he was lucky enough to be offered an escape in the form of becoming the apprentice of a witch.
Due to the circumstances of her death, he spent years trying to figure out how to bring back his sister, obbsessing over life, death, and souls. All of which was behind his teacher's back.
When she discovered what he was after, a fight ensued and they went their own ways.
Impressing him with a bit of magic, Casper found Carmine Falcone and convinced him to loan him money for college in exchange for future favors.
Before long, Casper was at the top of the medical field, the CEO of his own company. He'd given up on bringing his sister back, but the obsession with life and death remained.
His company turned out miracles, but for Casper, it was never about the money, only the means. At the top of the game, he had access to every resource he could ever want or need for his experiments, and offered his top scientists and researchers the same.
Then the world turned upside down. Not too much changed for Casper. His company suddenly wasn't his own anymore, but as long as he could continue with his goals and experiments, it didn't really matter.
Eventually, he focused his obbsession on one little idea: creating a soul from scratch. Natural souls come from an endless cycle of death and rebirth. He wanted to conquer that cycle by starting one up from scratch. He succeeded with the creation of his "adopted" son, Daniel Griffin.
His focus was steadily lost once Daniel was brought into the world. It would technically take all his life to see the project through, after all.
(See Daniel Griffin's Character Page)
Unfortunately, this damned world really isn't ideal for the kind of life he had in mind for his precious project. He decided it would be best to keep it safe at his side. Unfortunately, Daniel didn't like that idea.
After the whole incident, Casper had a major wake up call and a change of perspective. Things aren't okay. He can't just shrug and let things be as they are.
---
This character is owned by: WolfyWolf
Character questions
Recent Activity
Mentioned in the post
Guest
Jan 1, 2020, 11:59pm
Updated character profile
Nov 14, 2019, 5:30pm
Updated character profile
Nov 11, 2019, 5:29pm