Summary: A young witch ready to take a stand against oppression.
Saoirse O'Reilly
Owned by: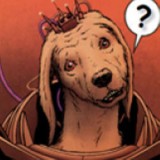 RexCelestis
Gender: Female
Age: 22
Group: The Resistance
Game: DC: War for Tomorrow
Parents
Molly O'Reilly (https://en.wikipedia.org/wiki/Molly_O%27Reilly) and an unknown, possibly fae, father
Powers/Skills
Mistéir has displayed an intermediate skill with magic. She has knowledge of multiple spells, though she isn't always adept at casting them. Some of her more successful demonstrated abilities healing and the manipulation of forces.
Appearance
Pale with crystal blue eyes and raven black hair, Saoirse could pass for Ms Ireland. Arcane markings cover one side of her face. The swirls and arcs of the tattoo seem to move and flow the longer someone looks at them. Fit, the young woman still carries a few extra pounds that betray a life of study rather than athletics.
Personality
Friendly and outgoing, Saoirse looks for opportunities to help others. True to her code name, she does not often talk about her past or origins.
History
((Right now, Saorise hasn't told me much about her past. I know she lives in Ireland with her mother, Molly. She's just begun to take small and quiet action against Luthor's forces. I hope to hear more from her the more I play her.))
Codename
Mistéir (Mystery)
---
This character is owned by: RexCelestis
Character questions
Recent Activity
Updated character profile
Nov 19, 2019, 3:07pm
Updated character profile
Nov 19, 2019, 1:37pm