Summary: Alright, relax. Let's just sit down and think.
Sadie Green
Owned by: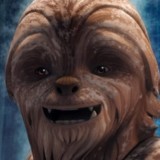 Graytex
Gender: F
Age: 23
Group: The Resistance
Game: DC: War for Tomorrow
Parents
Howards Green
Felica Green
Powers/Skills
Without Scarab
-Unremarkable Combat
-Crafty
With Scarab
-Enhanced Strength, Speed, and Agility
-Flight with the use of a jetpack and wings
-Power Armor
-Sonic Blasters
Appearance
5'9. Curly dark brown hair. Caramel skin tone. Athletic build. When not using the scarab she wears a regular blue hoodie and jeans. While using the scarab she wears a light blue and black body suit with an armory of weaponry.
Personality
Sadie is a free thinker. She tries to help in subtle ways, always trying to not use her scarab.
History
Sadie was 13 when the heroes started dying. Although the world changed around them, she wasn't that affected by it. That was until one day, Sadie's walk back from high school, she ran into a quarrel between a few of Luthor's soldiers with Doctor Alchemy against Blue Beetle. She tried to run away, but one of Alchemy's attacks sent Blue Beetle to die in front of Sadie. With his dying breath, he did what he thought was a "Hail Mary". He gave Sadie the scarab that gave Blue Beetle his powers. And for the last 8 years, she's gained moderate control of it. She never uses it to fight crime, that's just stupid. Her life isn't horrible, so why change it?
Codename
Blue
---
This character is owned by: Graytex
Character questions
Recent Activity
Updated character profile
Feb 24, 2020, 12:18am
Updated character profile
Feb 24, 2020, 12:16am
Updated character profile
Feb 16, 2020, 12:29pm
Mentioned in the post
Moving Day
Feb 16, 2020, 3:25am