Summary: The beautiful first wife of the Wizard Jafar and Powerful Elven Sorceress in her own right
N'jaa
Owned by: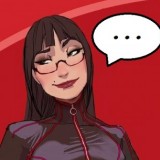 D2wintr
Gender: Female
Age: 178 years
Group: Mage Cast
Game: Spell and Blade
Origin and/or Nationality
Shadrazar, Zatar
Race/Subgroup
Night Elf
Rank/Title
Sorceress
Mistress of the 6 Rings
First Wife of the Wizard Jafar
Appearance/Dress
Considered by many to be a woman of great beauty and a prize of great worth to whomever could win her.
N'jaa is without question a beauty most fair with skin the color of freshly fallen snow and long dark hair the color of night worn loose about her shoulders.
N'jaa style tends to favor simple attire oftentimes consisting of dark silk tunics coupled with long loose flowing skirts and pantaloons. When able to go without however she most often does.
Personality/Interests/Hobbies
N'jaa oftentimes comes across as cold and aloof with little to no tolerance for people nor what she refers to as there unending and senseless prattle.
Beyond her public person however when one becomes better acquainted with N'jaa and her particular moods. One finds her to be a very attentive and endearing with a love of animals and small children.
Beyond her magical studies N'jaa is known to be a well spoken writer and gifted artist who enjoys music and dance.
History
Pending
Weakness/Quirks/Fears
Not a flaw in the traditional sense but N'jaa's great beauty draws no end of unwanted admirers or would be suitors hoping to replace her husband in her heart. The fact that she is an elf only adds to her frustrations given that majority in Zatar believe elven women to be promiscuous at best.
Not common knowledge but N'jaa was born and raised a slave and was won by her husband Jafar in a game of chance from a former master some 10 years ago. N'jaa still suffers horrid dreams of her life as a slave and the abuses she suffered.
Known to no one N'jaa wears a Bride Ring that ensures her loyalty and devotion her husband.
Favorite Sayings
" The only way you can be certain that three men can keep a secret is if two of them are dead."
" Never trust the promise of a human. Especially if they believe they love you."
" In magic I have found a weapon that even humans can learn to fear."
Character Notes
Pending
---
This character is owned by: D2wintr
Character questions
Recent Activity
Updated character profile
Sep 19, 2019, 4:44pm
Updated character profile
Sep 19, 2019, 4:39pm
Updated character profile
Sep 19, 2019, 4:24pm
Updated character profile
Sep 19, 2019, 4:07pm
Updated character profile
Sep 19, 2019, 11:16am
Updated character profile
Sep 19, 2019, 11:16am
Updated character profile
Sep 19, 2019, 9:46am
Updated character profile
Sep 19, 2019, 9:46am
Updated character profile
Sep 19, 2019, 9:44am
Updated character profile
Sep 19, 2019, 1:07am