Summary: The bane of all freewilled women of Zatar
Bride Ring
Owned by: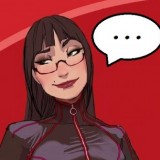 D2wintr
Gender: N/A
Age: N/A
Group: Artifacts/Creations
Game: Spell and Blade
Origin and/or Nationality
Zatar
Race/Subgroup
Magical Creation
Appearance/Dress
Bride Rings come in all shapes and sizes but typically appear as a simple gold wedding band.
History
None can say when the first Bride Ring was created in Zatar but others soon followed and would be collectively acknowledged as the bane to the free will of women throughout the lands if not for the fact that women of the lands of Zatar are not free to object to anything without the approval of their husbands or closest male relatives.
The rings themselves are tools of subjugation and used by husbands and husbands-to-be to suppress the free will of willful or troublesome wives and young brides. Thankfully the creation or outright purchase of these magical constructs is expensive in the extreme and a woman once bound and freed from a Bride Ring cannot be bound by another no matter how powerful.
...
Weakness/Quirks/Fears
The magic used to create Lesser Bride Ring's often times is so poorly shaped and the rings so single minded in their purpose that they have been known to have driven their charges mad and caused the suicides of no small number of young women over the years.
Favorite Sayings
" This band you wear does not care, nor does it acknowledge your foolish objections. Under the laws of this land and the temple of the one true God, this ring is proof enough that you bound, that you are your husbands bride and his property. Subject to his whims until he sees fit to release you or sell you to someone else. "
Character Notes
Pending
---
This character is owned by: D2wintr
Character questions
Recent Activity
Updated character profile
Sep 19, 2019, 2:41am
Updated character profile
Sep 19, 2019, 2:35am
Updated character profile
Sep 19, 2019, 2:10am
Updated character profile
Sep 19, 2019, 2:10am
Updated character profile
Sep 19, 2019, 2:05am
Updated character profile
Sep 19, 2019, 2:04am
Updated character profile
Sep 19, 2019, 2:01am
Updated character profile
Sep 19, 2019, 2:00am
Updated character profile
Sep 19, 2019, 1:35am
Updated character profile
Sep 19, 2019, 1:34am
Updated character profile
Sep 19, 2019, 1:34am
Updated character profile
Sep 19, 2019, 1:33am
Updated character profile
Sep 19, 2019, 1:32am