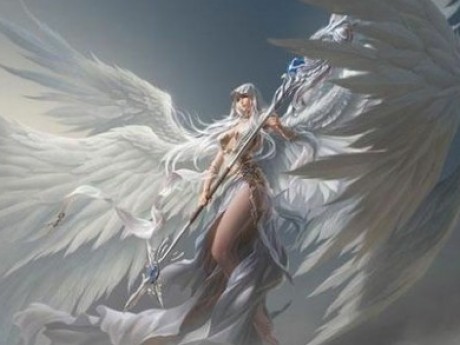 Summary: The light that Guides and Inspires the races of Good.
Elohim, God/Goddess of light and Life
Owned by: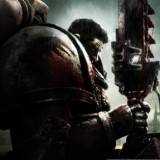 red_sword7
Gender: Male/Female
Age: Unknown
Group: Otherworldly
Game: Dungeons Deep & Dark
Real World Name / Occupation
Governing System AI
~ System Security Monitor
~ Anti-Virus/Malware Filter
~ Player Content Filter
Loyalty
Order and Goodness
Race and Subgroup
Celestial Being
Physical Appearance
To mortal eyes the light of his/her beauty is such that any that would dare look upon his/her full glory would be struck blind by it.
It is thus that Elohim prefers interact with mortals through proxies and lesser avatars which often appear as angelic beings of either gender to reward or council her followers and thus the confusion as none are truly certain if Elohim prefers to be male or female.
Personality and Interests
Elohim is a watchful and caring deity who looks after both her followers and the good races of the world ever hopeful and always intent upon guiding them to better themselves and to leave the world around them better than they found it.
Elohim is perhaps odd in that she see's anything and everything that helps to improve or educate the individual as an absolute good. Oddly enough this includes the ills of the world as well which she views as necessary tools to help shape and mold the individual still further.
Many are vocal in viewing this tendency as a failing on Elohim's part but Aura does not judge mankind or individuals based on a scale of victory over failure as both are needed sometimes to reach her desired goals.
Brief History
Originally designed as one of the three primary Security and System Stability Filters for the Game world. Elohim originally worked hand-in-hand with Corruptus and Shar to maintain Order within the system and while they do not always agree on a resolution to every problem they rarely stood in opposition to one another either.
The same cannot be said of her dealing with the younger God of Heroes, Oberron who is a constant thorn in her side and who as a so called Deity of Good oddly stands against her at almost every turn.
Favourite Sayings
"And tell me now child of man, What did the tales of your youth teach you?"
"Listen and learn O' Man ... Between you and the words you speak there is no difference. All words have meaning and purpose in this life. You in turn also have both meaning and purpose in this life. What that might be however is for others to determine ... "
"Sometimes, Finding your way often enough only requires that you to ask directions..."
Magic & Artifacts
Unknown
Character Notes
The problem between Elohim and Oberron rests in both world view and ideology. Aura having a more enlightened view is ever seeking the betterment for all without consideration for who wins and who looses.
Oberron as the God of Heroes however deals only in absolutes and whose judgement rests ultimately upon who is the victor in any given challenge or conflict. ( Oberron simply put seeks only to reward the winner and more often than not ignores the losers. )
Further, Elohim Thinks Oberron is Scum and wants nothing to do with him.
---
This character is owned by: red_sword7
Character questions
Recent Activity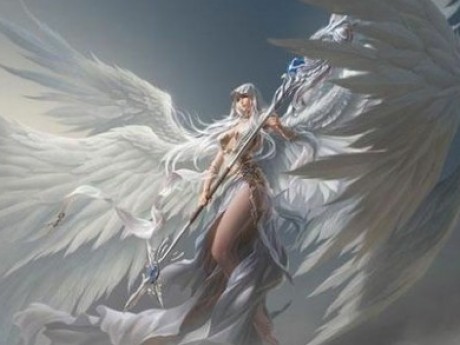 Updated character profile
Nov 8, 2020, 1:52pm
Updated character profile
Sep 23, 2020, 8:55pm
Updated character profile
Jun 25, 2020, 11:43pm
Updated character profile
Jan 28, 2020, 11:01pm
Updated character profile
Jan 28, 2020, 9:30pm
Updated character profile
Jan 27, 2020, 10:04pm
Updated character profile
Jan 22, 2020, 9:57pm
Updated character profile
Dec 15, 2019, 8:59am
Updated character profile
Dec 15, 2019, 8:59am
Updated character profile
Dec 8, 2019, 11:30am
Updated character profile
Dec 8, 2019, 9:34am
Updated character profile
Dec 8, 2019, 9:24am
Updated character profile
Dec 8, 2019, 9:05am
Updated character profile
Dec 8, 2019, 9:02am
Updated character profile
Dec 8, 2019, 8:45am
Updated character profile
Dec 8, 2019, 8:21am
Updated character profile
Dec 8, 2019, 8:21am
Updated character profile
Dec 8, 2019, 8:18am
Updated character profile
Dec 8, 2019, 8:02am
Updated character profile
Nov 10, 2019, 10:22pm
Updated character profile
Oct 28, 2019, 8:06pm
Updated character profile
Oct 28, 2019, 7:32pm
Updated character profile
Oct 28, 2019, 7:29pm
Updated character profile
Oct 28, 2019, 7:26pm
Updated character profile
Oct 28, 2019, 3:11pm
Updated character profile
Oct 28, 2019, 2:27pm
Updated character profile
Oct 28, 2019, 10:39am
Updated character profile
Oct 28, 2019, 10:30am
Updated character profile
Oct 28, 2019, 10:26am