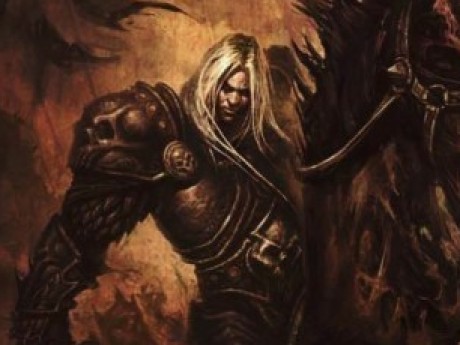 Summary: God of Entropy, Emptiness, Darkness, and Decay.
Corruptus **
Gender: Male
Age: Unknown
Group: Otherworldly
Game: Dungeons Deep & Dark
Real World Name / Occupation
Governing System AI
~ Platform Management Tool
~ System Stability Monitor
~ Content Management Filter
~ System Update Manager
Loyalty
Order
Race and Subgroup
Celestial Being
Physical Appearance
Corruptus oftentimes prefers the appearance of a attractive yet brooding warrior with long dirty white hair dressed in dark bloodstained armor and long black cloak bearing a massive broadsword.
Personality and Interests
"All this must end."
If one seeks to understand both Corruptus and his brooding nature. One needs only to read these words written in his hand upon the first page of the divine text known as "The Book of Days".
The reality however is that Corruptus has been tasked to see to the end of all things. A task that he does not relish and yet is forced to spend long hours reflecting upon. Still between Between these long hours of reflection Corruptus finds what amusements he can manipulating events in the Mortal realm.
Brief History
Originally designed as a Platform Management Tool intended to insure and maintain system interigety. Corruptus primary function was to purge the system of erroneous data and outdated or corrupted code within the games Matrix. The task also extended into in game content where in he was tasked to purge excessive game populations be it NPC or Monsters before excessive numbers from one side or the other threatened to overwhelm the other.
( A odd problem in game as NPC and Monster population growth was designed to mimic or be stimulated by real world norms. The problem as it turns out both sides breed like bunnies to accommodate the death rates traditionally inflicted by player characters.)
Favourite Sayings
"All this must end."
Magic & Artifacts
Throne of Dispair
~
Character Notes
God of Entropy, Emptiness, Darkness, and Decay.
---
This character is not owned by anyone. You can adopt them if you become a member of this game.
Character questions
Recent Activity
Updated character profile
Mar 24, 2020, 11:23am
Updated character profile
Jan 22, 2020, 9:58pm
Updated character profile
Dec 15, 2019, 9:01am
Updated character profile
Dec 8, 2019, 5:12pm
Updated character profile
Dec 8, 2019, 5:12pm
Updated character profile
Dec 8, 2019, 1:05pm
Updated character profile
Dec 8, 2019, 12:53pm
Updated character profile
Oct 28, 2019, 7:19pm
Updated character profile
Oct 28, 2019, 7:15pm
Updated character profile
Oct 28, 2019, 7:10pm
Updated character profile
Oct 28, 2019, 7:05pm
Updated character profile
Oct 28, 2019, 7:04pm
Updated character profile
Oct 28, 2019, 7:02pm
Updated character profile
Oct 28, 2019, 2:39pm