Deleted character
This is an old character & has been deleted.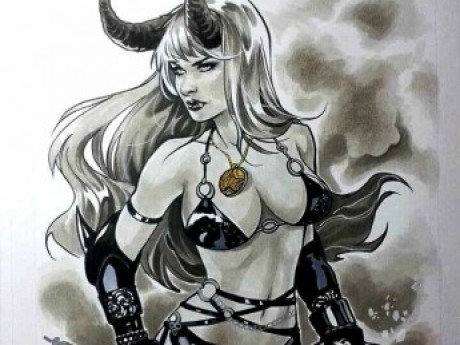 Summary: Tiefling Deathdealer and Terror of the North
Glory
Owned by: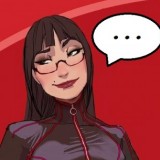 D2wintr
Gender: Female
Age: Unknown ( Mid to Late 20's )
Group: Knights & Warriors
Game: Dungeons Deep & Dark
Real World Name / Occupation
Amy Addams
-
Collage Student, Single Mother of one, Amateur Fantasy Novelist.
Loyalty
Glory is agreed to be a little nuts but she is a loyal to her friend and companion above all else and always ready for a fight.
Race and Subgroup
Tiefling, Infernal
Physical Appearance
A majority of the time Glory is a tall and fairly attractive young woman with long blonde hair and fair features.
When the battle rage takes over Glory assumes her more infernal appearance growing a fairly impressive set of horns while her skin assumes a darker tint the angrier she gets. From the waste down she assumes cloven hooves and grows a long demonic / reptilian like tail.
Personality and Interests
Glory is brawler and enjoys a good fight versus whatever monster or would be hero that comes her way.
Not really known for taking the game world or storylines to seriously. She spends most of her time exploring where ever time and luck take her.
Brief History
Glory has been something of a feature in the game going on the last 5 to 6 years. Appearing seemingly out of nowhere during the Campaigns of Blood storyline and making a name for herself for several years before suddenly disappearing without a trace over a year ago.
There had been some rumors of her return prior to the event but these were only rumors that were easily ignored once the event.
Favourite Sayings
"Bitch, Your gonna die ... bloody"
"Look at the bouncy bits you prick ... "
" I have tits and my Axe, that's all I really need."
"Hide your sons..."
"HULK SMASH!!!"
Magic & Artifacts
Bloodaxe ~ Glory's constant travelling companion is Magical Battleaxe named 'Bloodaxe' that may or may not be Intelligent given that if it is it tends to only speak to Glory.
Glory is also packing a pair of Titan Gauntlets and rings of Regeneration and Resistance.
Character Notes
Warrior 30/50
Barbarian 15/20
Deathdealer 15/20
~
Tiefling 5/5
Infernal 10/10
---
This character is owned by: D2wintr
Character questions
Recent Activity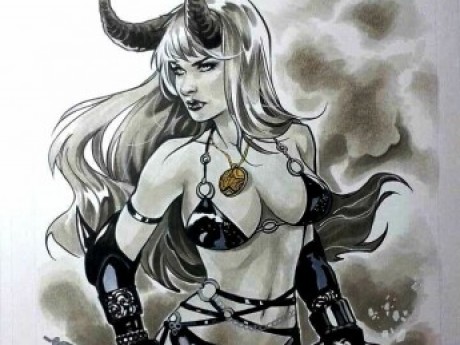 Updated character profile
Dec 12, 2019, 11:00pm
Updated character profile
Dec 12, 2019, 10:58pm
Updated character profile
Dec 12, 2019, 10:45pm
Updated character profile
Dec 12, 2019, 10:38pm
Updated character profile
Dec 12, 2019, 10:28pm
Updated character profile
Dec 12, 2019, 10:28pm
Updated character profile
Dec 12, 2019, 10:18pm
Updated character profile
Dec 12, 2019, 10:10pm
Updated character profile
Dec 4, 2019, 11:54pm
Updated character profile
Dec 4, 2019, 11:18pm
Updated character profile
Dec 4, 2019, 10:59pm
Updated character profile
Dec 4, 2019, 10:59pm
Updated character profile
Dec 4, 2019, 10:46pm
Updated character profile
Dec 3, 2019, 4:26pm
Updated character profile
Dec 3, 2019, 4:23pm
Updated character profile
Dec 2, 2019, 12:19am