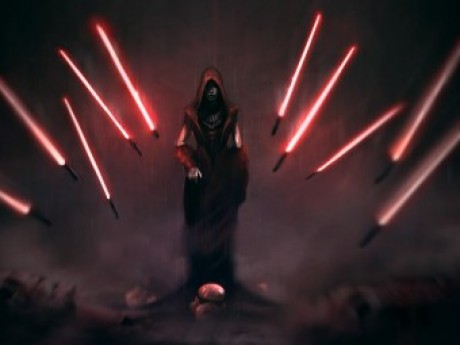 Description
You are called to the darkness. The force reaches out and tugs at your soul. Through a twist of fate or the pull of desire, no matter, you are drawn to the last temple of the Sith. The lost remnant of a forgotten age. Here you will find your calling, your true purpose. Here you will start your journey towards the Dark Side...
The Sith are long forgotten. A night time legend told only to children. A cautionary tale for the bold and unruly. Their memory has been wiped from the Galaxy, stripped from the history books. The ancient stronghold Korriban purified by the Jedi over a century before is now a broken rock, its atmosphere stripped and its surface scourged.
It is to the very heart of Korriban that you must travel. To the hidden temple of Darth Orvain, buried deep beneath the surface of the shattered planet.
Set in the far flung future of the Star Wars Legends Universe. The Galactic Triumvirate is entering its third century of rule throughout the known galaxy. The Jedi Order has become zealous in its beliefs, bending the militarily might and political power of the Triumvirate to spread the blessings of the force to all. Only the pure may know true peace in the force! All must embrace the light!
---
Latest story summary:
The Sith have returned. Their dark baptism on Korriban has been fullfilled and now they travel to the home of the the twins to retrieve a Sith Holocron that will set them on their path.
Posted by: Largehobbit on Jan 31, 2020, 6:04pm
---
Story Posts
Lost and Gained
Feb 25, 2020, 11:57pm by Writing Bug
Hargar kept quiet the whole time, partly studying all the strange sights, partly trying to comprehend what happened in the recent time. He felt the blood coating his skin, and wiped with his ...
Showing 4 out of 141 posts
---
Post Summary
| | Jan | Feb | Mar | Apr | May | Jun | Jul | Aug | Sep | Oct | Nov | Dec |
| --- | --- | --- | --- | --- | --- | --- | --- | --- | --- | --- | --- | --- |
| 2019 | | | | | | | | | | | | 84 |
| 2020 | 34 | 23 | | | | | | | | | | |
---
Game Information
Created by : Largehobbit
Category : Star Wars
Number of characters : 13
Number of posts : 141
Created : Dec 2, 2019
Moderators
Largehobbit
Members
There are 12 members in this game
Pending Members
There are no pending members in this game