Characters in this post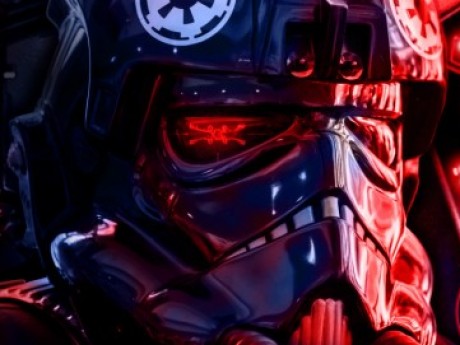 View character profile for: Roland Ward
Chapter 7: Demons in the Night
Roland locked the door behind him and began to make his way across his apartment towards his bedroom. He was unconscious for almost four hours in the station's sickbay, his forehead still throbbed due to the hit he had received from the Republic Captain, Gyr, was that his name? It didn't matter anymore, all that mattered was getting some conscious sleep. He stepped out of his techsuit and threw it on the couch as he passed. Pulled off his clothes leaving a trail to his bedroom where he closed and locked the door behind him again. He gave a long sigh to himself and decided the floor would be more comfortable. He grabbed his pillow from his bed top and placed it behind his head once he was on his back. Darkness washed over him as his mind fell into the blackhole of guilt, pain and horror that was his dreams.
.........
Roland closed his medical kit and reevaluated the medical job the Stormtrooper had done. He rotated his right arm. Good, he thought. The pain has ceased. He flexed his right leg. Still sore in his lower caff. It was tolerable. He looked up into the sun. The systems in his helmet filtered the light intensity. Helmet patch up was still working too. His armoured pilot suit may be airtight and cold-resistant but it couldn't stop the heat of the desert forever. The life support unit on his chest was useless here on the surface, he disconnected the oxygen cables from the ports on his helmet and unlatched the system from his breastplate. That was seven kilograms lighter already. He placed them down on the medical kit. The trooper patted him on the left shoulder. "Everything feeling fine?" She asked.
"Affirmative, thank you."
"My pleasure Roland." She stood up and went on to the next Imperial. Roland was grateful for Ria's skills as a medic, they're few of her specialty left anymore. Daar's Remnant was lucky to have one. After giving his limbs one more stretch, Roland pulled himself up to his feet and worked his way to his repair station.
The remains of Roland's TIE Defender lay in organized piles on the hanger floor. There was still a lot of work to be done to fix her. If he could live long enough to fix her. He took up the textured towel from the table and wiped his gloves clean of the oils, sand and grime that had built up over the afternoon. The supplies raided a day ago have helped him and the other techs make significant progress on the repairs both to the Defender and the shuttle on the other side of the hangar bay. Roland almost forgot he was on Jakku, this repair work was almost enough to solidify his focus. He stepped back and reexamined his work.
The angled wing was suspended half a meter above the floor from the cables above. The black solar arrays had all been replaced and connected. He smiled at it. Only one more wing to rebuild, then the cockpit viewport, seal it and realign and synch the hyperdrive, shield, sensor and targeting systems. Then put all the pieces together. He grabbed his second towel and removed the sweat that had built upon his face. He exhaled his breath he didn't notice he was holding. He was proud of his work but it wasn't enough to take away the pain of what he'd done to survive.
Roland took another quick look over his ship. Gathered his rifle and equipment belt. After a final equipment check, he took up his helmet from the table and looked at its face. It was worn and scratched, the shine was all but gone. The shape of the helmet was almost like looking into a mirror for Roland. He placed it over his head and began walking across the hanger to the assembly area for a briefing from the commanding officer.
Chief Daar had already made his changes to Imperial regulations. No one argued against it. The Galactic Empire was dead now. Chief Daar's first change was dropping the ID numbers. Everyone now knew everyone else's real names. Already he felt closer to these Stormtroopers than he did with any others. He knew who they were for once. The only names he knew before were those of other pilots, and those names were only used inside the barracks when a superior officer wasn't looking over your shoulder.
...
The sun had gone down an hour ago. Chief Daar had assembled a small team to do a night raid on a Republic camp two kilometres south of the base they had made from the crashed Star Destroyer's hangar. Roland lay prone on the hard ground, it was still warm. Chief Daar was prone in front of him on Roland's eleven o'clock. Daar's Deathtrooper tier armour was almost invisible at three meters away. Roland toggled on his low-light vision. A red overlay blinked on and the details of the salt pan came through. Trooper Yhar was positioned on Roland's three o'clock while Paos and Marik held the rear.
The camp was one hundred meters ahead. What info the Scout trooper Card bought was that locals were housing Republic troopers as well as at least one captured Imperial. Daar gestured with his right hand to advance. Roland and the team resumed crawling their way forward. At the twenty meter mark, the team climbed into crouches and readied each of their blasters. Roland held his E-11 at the ready and toggled the safety off. The locals in the camp had a tall fire burning in the center of the shelters where hovels of mudstone and animal hide. The occupants themselves were five Twi'leks, two of them children, two Zabraks, two humans with a child and the elder was a Lasat female.
"Ready grenades," Daar commanded at the edge of the camp. The majority of the occupants along with six Republic troopers all sat around the fire. They all appeared armed. Roland pulled his fragmentation grenade from his own belt and activated it. "Now." Roland in unison with the others tossed his own grenade into the campsite toward the assembly around the fire. A quick series of five violent bursts singled the assault. Roland maneuvered around the backside of the mud hut, rifle aimed, a wounded Zabrack crawled towards him, her left arm raised in as if to surrender. Roland squeezed his trigger. He continued his maneuver toward the fire. One of the green Twi'leks made a sprint to a hut across the camp. He took the milliseconds to track him and squeezed his trigger, the bolt burning the flesh of the Twi'lek's spine.
"Clear!" Marik was the first to respond.
"Clear!"
"Clear."
"Clear, sir!"
"Clear," Roland reported finally exhaling.
"Stay sharp troopers!" Daar's steady voice did little to ease the tension. Roland kept his eyes on the entrances of two of the mud huts. From the largest of the huts, the elder shuffled out, her arms raised. The old Lasat spoke clearly towards Daar.
"You have done enough harm here for one night, you killed your true enemies. Will you please now leave us alone?"
"We have intelligence that you are holding one of our own hostages. Give them back and we may forgive this incident." Daar's voice toggle changed to speak clearly to the woman his helmet still granting him a threatening tone.
"We do not…" The elder woman was cut off by another leaving the mud hut, an older man, human. A tattered Imperial jacket branding a general badge was worn over his other ragged clothing. His face was familiar to Roland. "...I have been here longer than you and your stormtroopers have."
"Very well. Marik, Ward, round up the rest of the villagers and bring them forward."
"Yes, sir!" Roland acknowledged, and with his rifle levelled entered the closest of the huts. A blue Twi'lek female and her two children were huddled in the far corner. He stepped forward and grabbed the mother's arm. "Let's move!"
She resisted for a heartbeat, her unblinking yellow eyes seemed to see threw Roland's helmet. Her children were afraid, but she seemed just angry. She stood up, her children grasping their mother's free left arm. "Move! Outside!" They did as they were told. Back outside the villagers and surviving Republic troopers had been gathered up in a line. There now was nine after the Twi'leks joined. Four of them weren't even teenagers. Roland rejoined his team now aiming their blasters at the Republic dogs and their corrupted loyalists
"You have been sentenced to death for crimes against the Empire." Daar's tone of authority was enough for Roland and the other Stormtroopers to tighten their fingers on the triggers.
A young Zabrak holding a long rifle rushed out from behind the line of criminals. The young boy was scared, he was struggling to hold up the rifle. Chief Daar through reflex had already unleashed a high-velocity bolt at the child who collapsed instantly. The crowd wavered this was where Roland and the others reflexes and training came through. Roland didn't blink, he pulled back on his trigger. One, two, three ruby bolts of plasma launched from his blaster muzzle.
The three Twi'leks lay dead before him amongst the ruin of the other criminals. He hated them as his training had taught him too. They were Rebel scum, Republic dogs, traitors, they probably had more Republic uniforms in the huts. They were children. His own mind touched back at his own mother, dying in the destruction of the first Death Star. Was this the same? Before Roland could decide for himself the traitorous Imperial officer coughed and tried to pull himself up. "Traitor!" Daar yelled as he stepped forward and kicked the tattered and injured officer back down. Keeping his boot on the officer's chest and had levelled the blaster at the officer's head.
"You grasp for that which is already gone, commander." The officer spoke painfully but held a solid composer against Daar. "We lost."
"Not yet general, you may have, but not me!" Chief Daar crouched to push his muzzle against the traitor's forehead. The officer only smiled.
"For the Empire trooper?"
"For the Empire." Daar pulled his trigger.
……...
The report from the blaster woke Roland from his dream. His heart was pounding as he realized he had been holding his breath. He exhaled and chased his breath to calm himself down but the memories of that night kept stabbing at his brain.
Roland lay unclothed in the darkness of his bedroom, staring at the ceiling from the floor. The floor was cold, he liked the cold. He found comfort that it never warmed. He felt the sensation growing, the soft tingling in his spine. He shivered. He let out a relieved sigh. He closed his eyes and waited for the next one. The red crest of the crate he found those years ago appeared in his mind. It was so clear, the lines were so powerful. He thought he could even hear it whispering to him. Angry words. Violent words. Powerful words. He stood up and opened his eyes. He couldn't resist any longer he had to see it again.
He turned to his right and on his knees, crawled to his bedside and pulled open the compartment toward him which the bed layover. The crate was inside, he stared at its beauty, he reached out to touch it with both of his hands. The moment his fingertips made contact against the freezing cold metal goosebumps raced up his arms. He shivered again. It was arousing, he pulled the lid off slowly as to not ruin the pleasure of the gift inside. Bright red smoke slithered out the moment the lid lost contact with the crate emanating a soft hiss.
The temperature of the lid was beginning to numb his hands. The blinding red light engulfed the room. The smoke had now spread across the floor. The moment he saw the contents within the whispering in Roland's skull turned into screams. He lost the ability for his eyes to focus, his mind became one with the swirling and creeping smoke. Visions of blood leaking through the cracks of sharp shaped orange stone walls. The walls faded into darkness. Roland found himself above Shan Osis, she stared with her grey eyes unblinking into his own. Her long blonde hair was tied back into a tail, she smiled at him. "I missed you." His manhood was almost instantly like beskar, he entered her as easily as he craved to, she was so warm to his touch.
"I missed you too." Shan's nails ran down his back with his thrusts. She closed her eyes and bent her head back. Her long neck exposed, Roland reached out with his right hand and took a tight grip around her throat.
"Oh, captain." She gasped. Roland narrowed his eyes and squeezed her neck tighter. How dare she speak without permission. "My..." He squeezed tighter. "...Captain." She managed to strain in a whisper.
"You disrespect me." He released his grip to slap her across her face. She inhaled deeply and locked eyes. Her own eyes now shone a violent red.
"Kill me." She pleaded as her loins flexed around his manhood, he couldn't hold it back any longer. "Kill me, captain!" Her scream echoed deep into his brain. Roland closed his eyes as he released his seed inside her. When he opened his eyes it was no longer Shan Osis. Now Roland was on his back, a prime woman with flawless crimson flesh and short violently red hair were now on top of him. The red irises now glowed with a faint mist emanating from behind her eyes. Sharp tendrils protruded from her cheeks, jowls and brows. Straight edged gold rings were embedded in her ears and upper cheekbones along with gold stud 'snake bites' below her lips. The woman smiled widely bearing her pointed teeth. Roland's stiffness returning she continued to straddle his waist and ride him as if to drain Roland of all he had. She began to drag her claws down his chest. The growing pain as she stripped away at his flesh became unbearable but Roland didn't want to stop her. He couldn't stop her. He watched her as she dug through his chest. She tore through muscle and bone. Roland could do nothing but watch as she grasped his beating heart under his sternum. He looked up back into her eyes, her mouth didn't move but he heard her voice in his head. "Peace is a lie. There is only passion." Roland's vision began to blur and he could feel his heart rate slowing. He closed his eyes.
He opened his eyes to the darkness of his bedroom, he was lying naked on his back against the cold floor. He looked down as he brought his hands to his chest. Nothing, no other scars than what had been there for years. He relaxed and looked back up at the ceiling. There was itching in the back of his mind, he knew he had a nightmare of some kind. All he could recall was red eyes and his open chest. As he tried to recall more details a string of words came to the foreground of his mind. "Peace is a lie, there is only passion." He smiled to himself.