Summary: An ex-slave that has a bone to pick with the whole world.
Wolf
Owned by: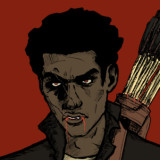 T4HJ3R1U5
Gender: Male
Age: 21
Group: Humans
Game: Mission implausible
Profession
Soldier of Fortune; Mercenary
Stats (allocate 1-8 pts, total for stats is 50+2D6)
CONSTITUTION - 6
STRENGTH - 7
AGILITY - 7
REASONING - 6
SELF-DISCIPLINE - 4
EMPATHY - 3
PRESENCE - 5
INTUITION - 7
APPEARANCE - 7
5 Skill sets (e.g. trade-bard, art-guitar, education-literature, combat-sword& dagger, magic-basics
Combat - Shortsword
Combat - Longsword
Linguistics - Orc
Linguistics - Elf
Art - Painting
Items on hand
Leather armor, iron shortsword, steel longsword, small tools, 10 silver, backpack with rations and change of clothes.
Personality
Cynical, Ill-Mannered, Observant, Reserved, Unapologetic, Chronically Angry
Life goals
Really only concerned with never being put into the position of 'slave' again. Otherwise, live long, and might as well get rich along the way.
Convictions
Supremacy of Strength, Supremacy of Will
Background
Ex-slave, due to his ferocity and rebellious nature he was enlisted into the army where he earned his mononym "Wolf", for when pushed far enough he would enter a rage similar to that of a vicious animal, hence the name. When the war ended, Wolf searched for a new place to put his skill of bloodshed to work.
---
This character is owned by: T4HJ3R1U5
Character questions
Recent Activity
Mentioned in the post
Easy money
Jan 3, 2020, 6:05am
Updated character profile
Jan 2, 2020, 3:03am
Updated character profile
Jan 2, 2020, 2:49am
Updated character profile
Jan 2, 2020, 2:48am
Updated character profile
Jan 2, 2020, 2:48am
Updated character profile
Jan 2, 2020, 2:44am
Updated character profile
Jan 2, 2020, 2:43am
Updated character profile
Jan 2, 2020, 2:09am